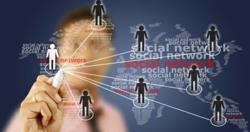 ND-SBN provides members with access to a multimedia platform equipped with the digital tools required to enhance digital marketing.
Washington, DC (PRWEB) March 11, 2013
While most professionals recognize the need to promote their enterprises, it can be challenging to decide on the right marketing channel or combination of channels. It can also be overwhelming to create the right promotional message for even a single platform, which is why the North Dakota State Business Network is helping its member by offering a comprehensive marketing package that is easy to use and highly effective.
ND-SBM Has Premium Personal Branding Products:
The Personal Branding strategies that ND-SBN is now offering includes a variety of online marketing initiatives that will improve the visibility of its members on the major search engines while providing key information to consumers, business partners and networking associates. Beginning with a Personalized Action Website, members can join one of the state's premier business communities and attain a position of credibility and authority that is associated with the ND-SBN organization.
In addition to a customized and highly professional website, members may also opt for a Video Release, Social Media Setup, Press Release, and Multi-Media Promotions Program. Using experienced professionals and the highest production value, ND-SBN is able to create an informational video that can be released to YouTube and immediately raise traffic to a member's website.
Social Media Strategies to Boost Your Image:
ND-SBN offers some of the most innovative and successful methods of enhancing member visibility on a variety of social media sites like Facebook, Twitter, LinkedIn, and YouTube. With the goal of attracting more visitors to their member's ND-SBN sites as well as their business websites, the seasoned marketing professionals will create a dynamic and engaging site on partner social media networks.
The North Dakota State Business Network will also distribute these marketing materials to key media outlets so that members will receive reputation enhancement and greater visibility among consumers and business partners.
About North Dakota State Business Network:
North Dakota State Business Network (ND-SBN) is a career and business development program established to promote job growth, commerce and networking. It is equipped with the tools, expertise and connectivity to help businesses expand their influence while forging strategic alliances necessary to attain higher levels of achievement. With its integrated infrastructure, ND-SBN holds a powerful online platform for building fundamental connections on a local, state and national scale.