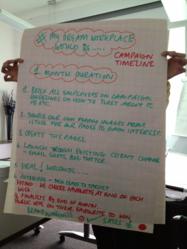 "Social media isn't rocket science. It's about getting the right content, in front of the right audience, at the right time"
Jason Falls
(PRWEB UK) 19 March 2013
UK Companies from within the construction industry were asked how they currently use social media and if they intend to use it in 2013. The full report, Social Media Survey, is downloadable, but here are a selection of responses:
1. What is your company's main line of work?
Architect: 26.7%
Contractor: 8.7%
Manufacturer: 31.1%
Surveyor: 6.8%
Other: 26.7%
2. Do you trade predominantly?
Business to business: 64.6%
Business to consumer: 35.4%
3. Do you currently use Social Media on behalf of your company?
Yes: 66.5%
No: 33.5%
4. If no, what is the main reason you do not use social media?
Lack of knowledge: 48%
Lack of resources: 12.0%
Can't see the point: 28.0%
Other: 24.0%
5. When do you plan to start using social media on behalf of your company?
Within 6 months: 26.0%
6 months to a year: 24.0%
Longer: 28.0%
Never: 22.0%
6. What social media platforms do you use?
Twitter: 80.8%
Facebook: 62.6%
LinkedIn: 77.8%
Blogs: 30.3%
YouTube: 38.4%
Google+: 11.1%
Pinterest: 9.1%
Other: 6.1%
7. What do you use social media for?
Tell people about products and services: 79.8%
To engage with customers: 76.8%
Customer service support: 24.2%
Research: 25.3%
Brand awareness: 68.7%
Build partnerships: 32.3%
Other: 7.1%
8. When you started your social media marketing did you have a strategy?
Yes: 36.4%
No: 63.6%
9. Who is responsible for your social media campaigns?
In-house: 97%
Outsourced: 3.0%
10. If in-house did they receive any social media training?
Yes: 34.5%
No: 65.5%
11. Is social media an important part of your marketing mix?
Yes: 72.5%
No: 27.5%
Conclusion:
It is widely known that companies have suffered badly through the miss-management of social media, so it's concerning that the role often managed in-house by an untrained employee.
The fact that most companies only recently started to use social media explains why, in the UK, there are few case studies, particularly in the business-to-business sector.
This survey concludes that although social media appears to be an important part of the marketing mix, most companies do not have a strategy and therefore probably no way of monitoring the return on investment.
Lindsay Hopkins from Sales And Internet Marketing explains how it can be used. "Social Media provides companies with the opportunity to nurture customers in to the top of the sales funnel'. By attracting visitors to a website their contact details can be captured and their behaviour, as they move round the website, can bo monitored. This information allows us to engage with individual customers, about the products and services we know they are already interested in'.
Sales And Internet Marketing provide services for small to medium sized businesses to achieve better brand awareness, an increased share of the market and more sales.
A full copy of this report can be obtained from Sales And Internet Marketing
Lindsay Hopkins, Director Sales And Internet Marketing
13 Quarry Street, Guildford. GU1 3UY
Tel: 01483 300580