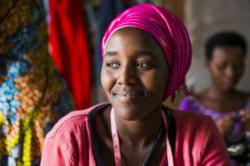 Richmond, VA (PRWEB) March 08, 2013
Embarking on an ambitious campaign to broaden brand reach to a wider donor base, Opportunity International today announced it has tapped The Martin Agency to develop a global brand strategy and platform.
Opportunity serves over five million people in more than 20 developing countries with small business loans, insurance and financial and professional development training. Through the organization's work with The Martin Agency, CEO Vicki Escarra plans to refine the 40-year-old brand with a more compelling and forward-looking articulation of the range of its work to eradicate poverty that will cultivate a long-term relationship with individual donors, corporate donors and strategic partners.
"The Martin Agency team is a gifted group of storybuilders who will mix that creativity with the sound science of audience targeting to help us grow our brand with a measured, precise strategy," Escarra said. "Opportunity's clients are trailblazers, each one of them leveraging the financial resources we provide to break out of poverty, then reinvest in their family and their community. The compelling stories of the intersection of Opportunity's work and their triumph will inspire support and consequent growth of our organization."
Opportunity Chief Marketing Officer Hope Schultz, who approached Martin to partner on the brand work, said the agency was selected for its creative leadership, strong track record in building iconic brands and its ability to work across all marketing platforms with equal expertise. "The Martin Agency has dedicated a stellar team to our work, whose passion is as palpable as its precision," Schultz said.
"Our team, after visiting Opportunity International sites in Latin America and Africa, is inspired and excited by Opportunity's work and mission. We are thrilled to have the chance to apply our craft to help them do even more," said Nancy Hannon, SVP, Group Creative Director at The Martin Agency. "There are so many great causes out there that sometimes it's hard to get a compelling message through. Opportunity International, however, is doing something that is fundamentally very different. They are not just helping people; they are showing people how to help themselves and giving them the tools and the training to create a sustainable way of life."
The Martin Agency has already begun strategic work. The corporate identity, creative platform and website are slated to be complete this summer. Billings are undisclosed.
About The Martin Agency:
With offices in Richmond and New York, The Martin Agency offers unified advertising, strategic planning, media, direct response, interactive, data analytics, design, branded content and local lead generation. Clients include BFGoodrich, Discover, GEICO, Hanes, Kraft, Manpower, Mondelez International, Morgan Stanley, PING, Pizza Hut, the American Cancer Society and Walmart.
About Opportunity International:
Opportunity International provides access to savings, small business loans, insurance and training to over five million people working their way out of poverty in the developing world. Clients in over 20 countries use these financial services to start or expand a business, provide for their families, create jobs for their neighbors and build a safety net for the future. For more information, visit http://www.opportunity.org or join the conversation at http://facebook.com/opportunityintl and http://twitter.com/opportunityintl.
For more information, contact:
Theresa Dunn, The Martin Agency at Theresa(dot)dunn(at)martinagency(dot)com or 804-698-8314.
Stacey Zolt Hara, Opportunity International at shara(at)opportunity(dot)org or 312-965-1038