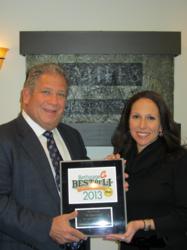 Long Island, NY (PRWEB) March 09, 2013
When in search of a top-notch dentist, there is nothing quite as powerful as a recommendation. The esteemed and highly skilled Drs. Steven Katz and Dominique Lizzio of Smiles on Broadway have astounding patient testimonials and well-supported recommendations to thank for the receipt of the award for the Best of Long Island Dental Practice for 2013. The last year was filled with life-changing treatments and spectacular innovations for Dr. Katz and his partner Dr. Lizzio. Their cosmetic dentistry practice in Long Island is anchored in Malverne and is founded on the essential balance between cutting-edge science, a spa-like patient experience, and old fashioned relationships. Committed to bringing both compassion and expertise to the field of dentistry, Drs. Katz and Lizzio are proud to represent their Long Island cosmetic dentistry, implant dentistry, sedation dentistry and holistic dentistry patients and create an impeccable example for the ideal dental experience.
The versatility and adaptability of Dr. Katz, Dr. Lizzio, and their team are two of the qualities that made them worthy of the award. Whether a patient is visiting Smiles on Broadway to undergo a complicated restorative procedure, ease their dental anxiety with sedation dentistry, or pursue an oral health routine focused on holistic methods, Smiles On Broadway will tailor a treatment that meets each of your needs and helps you achieve your oral health goals. This full-service dental practice is known across Long Island for their exquisite cosmetic dentistry results and astonishing smile makeovers. Proud of their ability to make dramatic differences in people's lives, Drs. Katz and Lizzio feel compassion for each of their patients. After almost three decades, the finesse and knowledge that Smiles on Broadway uses to achieve success for their patients are fine-tuned and well respected. Receiving the award for Best of Long Island Dental Practice for 2013 is a testament to the hard work and dedication that lie at the core of the Smiles on Broadway mission. Dr. Katz, Dr. Lizzio and their Long Island cosmetic dentistry team are looking forward to a new year, new challenges, and more great success.
Drs. Katz and Lizzio can be contacted on their website at: http://www.smilesonbroadway.com, or by calling (516) 599-0883.
Originally posted by Smiles On Broadway Dental Care