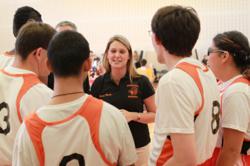 Oneonta, NY (PRWEB) March 08, 2013
Springbrook, a leading provider of supports for people with special needs, will host the Springbrook Invitational Special Olympics Basketball Tournament on Saturday, March 16, 2013 from 12-6pm on their main campus at 105 Campus Drive, Oneonta NY.
The Springbrook Invitational will mark the first time that Springbrook has hosted a Special Olympics tournament in the organization's history. With the recent completion of the $22.5 million expansion of the School at Springbrook on the main campus, the organization now has a regulation size, state-of-the-art gymnasium enabling the Springbrook Scorpions basketball team to host tournament play and an Olympic Village.
The Scorpions basketball team has been highly successful in Special Olympics tournaments this year. At their most recent tournament, the Westchester-Putnam Special Olympics Annual Basketball Invitational in Somers, NY on March 2, 2013, the Varsity team took home the bronze medal and the JV team took home the Silver medal, while members Jacob Rothbein and Maianna Huntington earned 5th and 1st place in the individual skills competition.
The Springbrook Invitational is sponsored by Bill and Karen Mirabito and the Delaware National Bank of Delhi, as well as Chobani, The Daily Star, and Maines Paper and Food Service. Tournament sponsors and Springbrook CEO, Patricia Kennedy, will take part in opening ceremonies as well as present awards at closing ceremonies. Attendees are encouraged to RSVP by calling 607-286-7171 extension 282, as space is limited.