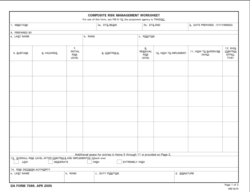 Laws.com informed that it has published DA Form 7566 Composite Risk Management Worksheet in its legal form section
NewYork, NY (PRWEB) March 09, 2013
Laws.com launches DA form 7566, the latest one in the array of Defense forms, a composite risk management worksheet covering both duty and off duty risks. The risk monitoring worksheet should be prepared for Time training, APFT, Road marches etc.
DA form 7566 is used by the United States Armed forces for tracing the compound risk management worksheet which document all the on duty and off duty hazards, which may crop up in between any scheduled events. The peril may occur during training or non-training exercises.
Form Availability:
DA form 7566 can be obtained from United States Army documentation website or from the chain of command. From now onwards the form can be downloaded from laws.com DA form 7566 page.
Risk Management
Risk management is the process of recognition, evaluation and categorizing of risks, which is followed by synchronized and economical application of resources, to reduce, assess and track the impact of fateful incidents. Risk can occur in many form, natural causes, disasters or it can be even a deliberate attack from an opponent. Definitions can change as per the circumstances.
How to fill DA form 7566
Filling DA form 7566 has to be carried out with much care. The initial boxes are for the basic information pertaining to the incident. Presenting the type of the event is in box no.1 and the time of the event should be in boxes two and three respectively. Get set with the preparation of DA form 7566. Box no 4 is for the name of the concerned person, rank and position of the individual in the Armed Force. The space in the box no 5 is set aside for the sub-tasks, the following boxes are for the risk evaluation. The hazards faced by the event has to be mentioned in box no.6, followed by the amount of risk involved, controls and administrative plans which are going to be executed during the event. In box no 12 you must make a confirmation whether the controls and supervision were adequate enough in restricting the hazards. If more than six sub-tasks are involved in the event, sufficient space will be provided on the second page which can serve as an addition for the extra tasks of the event. After evaluating the tasks, you should present the overall level of jeopardy of the tasks after the controls have been put in place in the box no 13. Indication of the tasks levels has to be mentioned whether it's severe, average or low. The risk assessment authority has to sign on the DA form 7566 before making it a record and keeping it in the appropriate recording place.
Moreover, the complexity of filling the DA form 7566 has been eliminated; the video guide in Laws.com explain how to fill the form . Completing the DA form 7566 is no more a challenge as Laws.com provides all the needed assistance. To Get Free legal forms visit laws.com