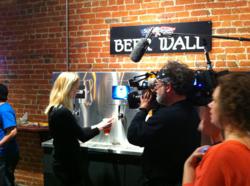 no waiting in line at the bar means a natural lift in sales and your staff can focus on making better cocktails and delivering better service. Everyone wins
Denver, CO (PRWEB) March 11, 2013
Jon Taffer's hit TV show "Bar Rescue" has gone from strength to strength in two fast-paced, hard-hitting seasons on Spike TV and Season 3 is living up to the same high expectations . Episode 5 aired Sunday night March 10th and Jon's re-do of a rundown pool hall in Denver CO was as challenging as ever.
The show lives and dies on his ability to bring unique and fitting industry innovations to the table paired with his no-nonsense management style whipping shoddy retail owners and their staff into shape by reinvigorating their places and restoring some pride in what they do.
This time the focal point of the show is a self-serve beer wall where customers can walk up to it and, with the aid of a hardware 'fob', pour their own beer. The company that makes the mobile beer wall is Innovative Tap Solutions based in MD. "The original idea behind the beer wall was to try to offer more taps in an establishment while allowing a customer to freely sample whatever amount of each beer flavor they wanted", said Josh Goodman, the company founder. "We saw the rising tide of craft beer a few years ago and we also noticed that most bars did not have enough taps to meet this demand. Furthermore, even if they did, the service was slow on busy nights and getting a beer was very difficult. We figured most people know how to pour their own beer and we started to develop ideas on how we could get more sales and sampling going while generating less waste and giveaway and ultimately making happier customers. That really is the business in a nutshell".
Since the show was recorded the team at ITS have developed an 8 tap mobile beer wall as well as the 4 tap seen on the show. There are plans for wine versions and they have a new software platform that uses RFID wristbands now to initiate the pour and record what has been poured back to a database that will allow the retail owner access to that data so that they can better target and market to their customers.
They also offer a 'fixed' version of the wall that can be piped from where the kegs are stored cold. "This is also proving very popular now too" said Declan Duggan, Goodman's business partner. "We have some owners wanting to put in 40 or 50 taps for their customers to be able to choose from. It makes sense. They save on the waste and giveaway side of it. Those combined can be more than a 25% cost in bars and restaurants in some cases so that is a huge savings in a year if you can mitigate that, like our systems do. That coupled with the fact that no waiting in line at the bar means a natural lift in sales and your staff can focus on making better cocktails and delivering better service. Everyone wins".
Jon Taffer himself has called self-serve beer "the future of the bar business" in Season 2. It seems he truly does believe that with the inclusion of the mobile beer wall in this subsequent season. It may be time to take a good look at this if "the business" is your business.
http://www.pourmybeer.com is an Innovative Tap Solutions Company. The company was formed in MD in 2008 and made the first commercial mobile self-serve beer tables in the US. It also sells and distributes fixed beer walls, mobile beer walls, fixed draft tables and mobile draft self-serve tables. All mobile equipment is made in the USA. Contact sales(at)pourmybeer(dot)com or call 215-219-9203/443-691-2337.