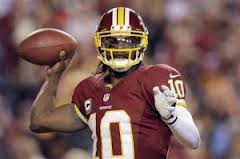 Washington, DC (PRWEB) March 08, 2013
Apparently, about two months since Robert Griffin III had his ACL and LCL surgery is enough time for the Redskins to say he just might be back in time for the season opener in the fall. His rehab has just begun, and although he is looking good, there are a lot more checkpoints for him to go through in the seven months until game time. It is certainly wishful thinking, but encouraging signs are definitely being tossed around.
When the offensive rookie of the year took the stage on the eve of the Super Bowl, he was hardly limping at all. He said that getting the award was kind of like a coming out party. His appearance that night served two purposes; one to honor the past, and the other to look on to the future. Also while accepting his award, Griffin announced in confidence that he will be in full health in time to start as quarterback for the Redskins for the 2013 season. After seeing Griffin, Redskins owner said he was very impressed with Griffin. He also declared that he is an unbelievable young man that is making great strides and will do well for the Redskins. (http://www.washingtontimes.com/news/2013/feb/2/rg3-has-no-doubt-knee-will-be-ready-redskins-opene/?page=all)
RG3 mentioned to the press that he is already further along in his recovery than his last ACL surgery in 2009. He knows that he is feeling good compared to last time, and that he is past the toughest part. Now, he says, is just about being smart and taking his time. He does not want to push it too hard and risk hurting himself before he is ready. ACL tear's have a long road of recovery, so being smart and taking his time is exactly what Griffin should be doing. Going forward, Griffin plans to go between Ashburn and Pensacola to continue his rehab. We can all hope for Griffin's return in the fall, and you can be there to see it by getting your tickets at RedSkinsTickets.com. At RedSkinsTickets.com, you can find your dream seats, get updates on players like RG3, and check out our social media hub to stay engaged and connected! Hail to the Redskins!
The highly-regarded entertainment ticket marketplace, Inside Track Tickets, has launched http://www.redskinstickets.com, its newest ticket retail site featuring one of the largest supplies of tickets for the Washington Redskins in Washington, DC. Not only can fans purchase Redskins tickets, but they can also share their experience with friends and fans by participating in an interactive fan hub and social media experience showcasing an active blog at http://www.redskinstickets.com that features team news, players update, as well as videos, pictures, and other information. http://www.redskinstickets.com helps fans find everything they are looking for, from http://www.redskinstickets.com to news and events.