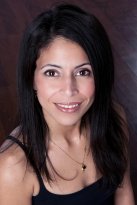 I love teaching yoga. It gives me the opportunity to make a positive difference in people's lives. That is why I am very excited to share my classes online.
Charlotte, NC (PRWEB) March 13, 2013
YogaVibes, a leading distributor of online yoga classes, is excited to partner with Adri Kyser.
Known for her graceful, vibrant, loving and inspiring style, Adri Kyser is a Global Vinyasa, Prana Flow® yoga teacher and Power Pilates instructor with many years of experience. Thanks to her extensive studies and continuous trainings, she has created a unique approach to how she teaches yoga. Adri's mission is to help her students reconnect with their Inner Beauty and live life at its fullest potential.
Adri is the Co-Founder and Director of Maha Shakti Teacher training program. In addition, Adri is one of the few yoga teachers approved by Shiva Rea to lead Prana Flow® modules in the US and abroad. She also has been featured in Elephant Journal, Yoganonymous, and Origins Magazine.
Why YogaVibes?
"I love teaching yoga...It gives me the opportunity to make a positive difference in people's lives. That is why I am very excited to share my yoga classes online. Thanks to YogaVibes I can continue to serve others by bringing high quality classes to anyone regardless of their location and distance between us."
YogaVibes is equally as excited to share Adri's unique approach to the practice. To get a feel for her style, check out Adri's newest online yoga videos:
Lunar Vinyasa Flow
This is the perfect flow for those desiring a slower paced Vinyasa practice. Slow down, draw within, and experience total mind and body renewal. During this online yoga class, run-through a series of grounding poses and deep hip openers with modifications for experienced beginners, intermediate, and advanced practitioners. Guest musician Daphne Tse will perform a savasana serenade. Music provided by Yogi-Tunes. (59 mins.)
Solar Vinyasa Flow
Join Adri in an energizing, empowering Vinyasa yoga class. Get ready to build strength and stamina. Find stability through standing balance poses, arm balances, core work, and much more. This online yoga class is open to all levels of practitioners, but some yoga experience is highly recommended. Music provided by Yogi-Tunes. (62 mins.)
Turn to Adri's online yoga videos to surrender, let go of inhibitions, and transform the practice from a state of doing to a state of being.
About Adri Kyser
To learn more about Adri's passion for yoga and her master classes, workshops, teacher trainings and retreats in the Dallas area and abroad, please visit http://www.innerbeautyyoga.com. To find Adri's free online yoga videos, click here.
About Yogavibes
Looking for the best online yoga classes? Look no further! YogaVibes.com is an online realm for high-quality, authentic yoga classes and instructional videos captured in a real studio with real students. YogaVibes offers a diverse selection of online yoga classes from the best yoga teachers in the world, making learning and living yoga easy in everyday life. YogaVibes' mission: To create a supportive, challenging, and welcoming online community of passionate and inspiring yogis.