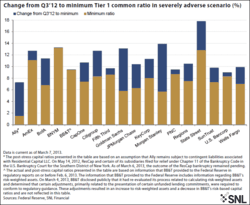 Big U.S. banks "are collectively in a much stronger capital position than before the financial crisis," Fed officials said in a release announcing the exam results.
Charlottesville, VA (PRWEB) March 10, 2013
SNL FINANCIAL REPORT: STRESS TESTS ULTIMATELY CAUSE FOR LITTLE STRESS
The Dodd-Frank stress-test results concluded that the industry's largest players in general would perform well should the U.S. economy tumble into another severe recession. Ally Financial was the lone exception, "failing" the stress test after its Tier 1 common ratio fell to 1.5%, well below the minimum requirement of 5%.
Altogether the 18 bank holding companies included in the test were projected to post cumulative net losses of $194.1 billion over the 9 quarter period in the severely stressed scenario.
Read the full SNL Financial analysis here: http://www.snl.com/InteractiveX/Article.aspx?cdid=A-17142989-13091
Related report: 'Few surprises, a little bravado emerge from Dodd-Frank stress tests': http://www.snl.com/InteractiveX/Article.aspx?cdid=A-17142989-13091
Thank you in advance for citing SNL Financial if you are able to use any of our findings in your reporting. Feel free to reach out to me via email with any questions.
Best,
Christina M. Twomey
Public Relations
SNL Financial
434.951.6914 desk
410.382.3316 mobile
@christinatwomey Twitter
christinatwomey Linked In
http://www.snl.com