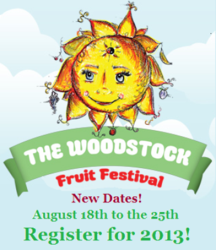 "Fruitarianism is the future of elite athletic performance"
New York, NY (PRWEB) March 08, 2013
The Woodstock Fruit Festival is proud to extend an invitation to Venus and Serena Williams to attend the Festival this August. Michael Arnstein, founder of the event, shares "Fruitarianism is the future of elite athletic performance, Venus and Serena Williams have been public about their foray into the world of raw-veganism in diet. We believe they would benefit from learning more about a low-fat raw vegan diet, also known as fruitarianism."
In 2011 Venus Williams was diagnosed with Sjögren's Syndrome, a chronic autoimmune disease in which a person's white blood cells attack their moisture-producing glands. This condition may also cause dysfunction of some organs such as the kidneys and liver, and people affected may also experience shortness of breath, chronic fatigue and muscle pain. Venus adopted a raw vegan diet in order to reduce the inflammation within her joints and to help with her fatigue. Serena Williams also follows this way of eating in support of her sister. Arnstein believes that both Williams sisters would greatly benefit from attending the Festival this summer, as this event provides lectures and presentations about striving for optimal health through raw food, proper hydration and sufficient rest.
The Woodstock Fruit Festival strives to address the many health advantages of eating fruit-based; as well as environmental benefits. The festival strongly believes that one of the best things you can do for your own health and the health of the Planet is to eat more fruit! Some of the speakers for the 2013 festival include well known raw vegan athletes, and health pioneers. Best-selling health author Dr. Douglas N. Graham; champion trail runner Tim Van Orden; founders of one of the popular raw food websites 30BananasADay.com; YouTube favorite Dan 'The Man' McDonald, Tony Wright; author in the evolutionary scientific community; internationally-published fruitarian author Anne Osborne; and expert on children's diet and nutrition Karen Ranzi. Festival speaker and 30+ year veteran fruitarian gymnast Robert Lockhart, says "We live in a world where the human form is taking on ever-increasing dimensions; and obesity, heart disease and cancer rates are growing at alarming rates, the need for a healthy, ethical, and sustainable diet has never been higher. If you want to die young, but as late as possible, embrace the Fruitarian Lifestyle!"