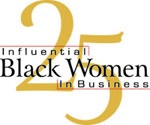 New York, NY (PRWEB) March 12, 2013
Michelle Miller, Correspondent and Anchor for CBS News Programs and Recipient of the National Association of Black Journalists' Award of Excellence, Is Mistress of Ceremonies at the March 21 Celebratory Luncheon in New York City
The Network Journal (TNJ), an award-winning business magazine with an audience of predominantly African-American professionals, corporate executives and business owners, announces its 2013 list of "25 Influential Black Women in Business."
The select group will be profiled in the special March issue of the magazine, and will be formally honored during Women's History Month at the 15th Annual 25 Influential Black Women in Business Awards Luncheon on Thursday, March 21. This signature TNJ event, which is highly anticipated each year, will be held at the New York Marriott Marquis Hotel, located at 1535 Broadway (between 45th & 46th streets) in New York City, from 11:00 a.m. to 2:00 p.m.
"This year's class of honorees is celebrating with us a milestone anniversary of the "25 Women" awards. As always, we're proud to recognize their unwavering commitment to excellence and leadership," said Aziz Gueye Adetimirin, TNJ Publisher and CEO.
TNJ's 2013 extraordinary women are:
Kimberly A. Blackwell, Chief Executive Officer, PMM Agency
Sandra Bookman, Anchor/Reporter, WABC-TV
Audrey Boone Tillman, Esq., Executive Vice President, Corporate Services, Aflac, Inc.
Erica C. Bowen, Vice President, Marketing, L'Oreal Paris
Erika Irish Brown, Senior Vice President, Enterprise Diversity Recruiting and Program Management Executive, Bank of America
Kimberly Brown Drumgo, MBA, PMP, Director of Diversity and Inclusion, American Institute of Certified Public Accountants
Ehrika C. Gladden, Senior Director, Enterprise Services, Cisco Systems
Allison E. Green, Senior Vice President, Chief Diversity Officer, Lincoln Financial Group
Sylvia B. Hamer, Chief Diversity Officer, New York Power Authority
Donna A. Johnson, Senior Vice President, Chief Diversity Officer, MasterCard Worldwide
Anita Johnson-Patty, General Manager, Communications (The Americas), Bahamas Ministry of Tourism
Cindy Kent, Vice President and General Manager, Gastro/Urology Therapies, Medtronic, Inc.
Rhonda R. Mims, President, ING Foundation and Senior Vice President, Corporate Responsibility, ING U.S.
Karen E. Nethersole, Esq., Chief Executive Officer, Full Circle NY LLC
Marjorie Perry, President and Chief Executive Officer, MZM Construction & Management, Inc.
Pamela S. Robertson, Partner, Edwards Wildman Palmer LLP
Angela Roseboro, Executive Vice President and Chief Diversity Officer, Jones Lang LaSalle
Sandra Sims-Williams, Chief Diversity Officer, Publicis Groupe
Stephanie P. Smith, Managing Director, Goldman Sachs & Co.
Sharon C. Taylor, Senior Vice President, Human Resources and Chair of The Prudential Foundation, Prudential Financial
Keisha M. Vaughn, Vice President of Human Resources/Chief Diversity Officer, Draftfcb Advertising
Wanji J. Walcott, Esq., Managing Counsel, American Express
Dawn S. Walker, Assistant Vice President, Office of Communications and External Relations, Medgar Evers College
Lorna Welshman-Neblett, Senior Manager, Sales & Marketing Administration, Clarins Fragrance Group
Rosa Whitaker, President and Chief Executive Officer, The Whitaker Group
The program includes a cocktail networking reception, lunch and awards presentation with Mistress of Ceremonies Michelle Miller, correspondent and anchor for CBS News programs and recipient of the National Association of Black Journalists' Award of Excellence. A signature TNJ event, it attracts a "Who's Who" of business executives and decision makers from various industries.
Tickets are $300.00 if purchased before March 15th and $350.00 thereafter. Sponsors this year include: L'Oreal USA, Entergy, Macy's, and WBLS-FM. The TNJ March issue cover is dressed by renowned fashion designer B Michael of b michael AMERICA.
For more information please visit http://www.tnj.com/25-Influential-black-women-award-luncheon.
About The Network Journal
Founded in 1993, The Network Journal (TNJ) is an award-winning magazine published six times per year. It provides news and commentaries on issues that affect the growth of business and the advancement of professionals in the workplace for an audience of predominantly African-American professionals, corporate executives and small-business owners. Engaging more than 88,000 readers per issue, The Network Journal is distributed nationwide, with a focus on the New York tri-state area, while its sister daily publication at tnj.com reaches a global audience. For more information call (212) 962-3791 or visit http://www.tnj.com.