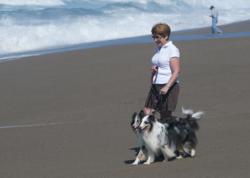 Hotels and destinations that aren't providing for truly dog-friendly travel are missing out on a growing trend.
San Rafael, California (PRWEB) March 12, 2013
Dog owners are finding it easier to locate dog-friendly accommodations, information on pet safety and things to do with their pets when traveling, a national survey by DogTrekker.com finds, with 83% turning to search engines and websites to plan their trips.
The survey of dog owners was part of a larger study of American leisure travelers conducted in January, similar to one conducted by Dogtrekker in 2011. The 2013 study found that the number of dog owners in the USA has remained constant, though they are more at ease finding dog-friendly travel information and that dog-friendly travel is growing.
Finding dog-friendly accommodations remains the biggest reason more dog owners don't travel with their pets, though this has gotten 9.5% better since Dogtrekker's last survey. Also down among reasons dog owners don't travel with pets were: concerns about dog safety (-14.4%) and finding things to do with the dog when on the road (-21.6%). Dog owners also reported they find it harder to locate day care for pets at travel destinations (+10.5%).
Among owners, 56% say pet-friendly policies and amenities are very important to their selection of accommodations, up 8.9% from 2011. Among the annoyances they encounter most are expensive hotel pet fees (42%), a poor selection of truly pet-friendly hotels (34%), finding activities to do with dogs at destinations (28%) and confusion over pet-friendly policies at hotels, activities and attractions (30%).
"Hotels and destinations that aren't providing for truly dog-friendly travel are missing out on a growing trend," said Dave Kendrick, co-founder of Dogtrekker.com which is an online guide to dog-passionate travel in Northern and Central California. "Our survey documents that 47% of leisure travelers own dogs and nearly 40% of owners bring their dogs along on trips. That's roughly a quarter of all travelers!"
"What dog owners tell us,"Kendrick added, "is that being dog-friendly means more than just allowing a dog to stay in a room with its owner. It means welcoming them just as they do their adult counterparts and setting policies that prove it."
Unfriendly practices cited by travelers include weight and size limitations that aren't disclosed until check in, few dog-friendly rooms, no information on where dogs can go and little guidance to owners on nearby pet services and the aforementioned high pet fees.
"To avoid a miserable travel experience, people who bring their dogs along on their trips say they're turning to sites like Dogtrekker.com to separate what's dog-friendly from what's not. They also look to find new places to take their dogs, experiences to enjoy and where to stay when they travel, " said Kendrick. "The study also pointed out that well over 50% of those who travel with their dogs want to search out less known dog-friendly destinations, a key goal of DogTrekker.com."
"This hasn't gone unnoticed by the hotel industry," said Kendrick, "The number of national hotel brands, including such leaders as Kimpton, Fairmont, Ritz, Starwood, Lowes and Joie de Vivre, that have built reputations as being dog-friendly has grown. It's now very common to see people entering the best properties with Spot beside them. The Westin hotels even go so far as to provide use of special beds, food and water bowls, mats and amenity kits. Still, our survey found that about 40% of dog owners saying they had difficulty finding truly dog-friendly hotels," Kendrick stated. "That is one thing we're working to change at DogTrekker.com."
Kendrick cited a huge difference between claiming to be dog-friendly and truly earning the biscuit, "it's the thought that goes into planning for dogs and their owners, how thoroughly the hotel has considered what owners need, such as: is there a nearby area to exercise and clean up after dogs, where will the dog sleep and eat, are cleaning policies and deposits fair."
When Dogtrekker first surveyed travelers two years ago, there was very little information about dog-friendly travel. "Our study is now the definitive measure of dog-friendly travel. No other studies have been as projectable nationally or repeated. It's told us a lot about changes to where dog owners turn for travel planning information." The Dogtrekker.com survey found that substantially fewer traveling dog owners are referring to visitor bureaus, newspaper travel sections, magazines, guidebooks and even Internet search engines. Increasingly, they're turning to dog-friendly websites and social media for answers.
Dogtrekker's survey of dog travelers was included in the January, 2013 State of the American Traveler Survey, conducted every six months by Destination Analysts, Inc, a San Francisco-based tourism industry research company. The online survey includes a nationally representative sample of adult Americans, screened by their leisure travel behavior. Only those respondents who had traveled at least once in the past 12 months, for purely leisure or personal reasons, were interviewed. Their travel had to have been at least 50 miles one-way — the standard distance used in the tourism industry to signify that a "leisure trip" has been taken. In total, 1,000 leisure travelers completed the survey. With this sample size, the topline data presented is considered to have a reliability of +/- 3.1%.
Dogtrekker.com was established in 2011 by Kendrick and what he describes as "a collaboration of dog lovers who wanted to share what they've learned during the equivalent of 200 years of on-the-road and on-the-trail adventures.
"Prior to DogTrekker, there just was no way to judge what it means to be dog-friendly," said DogTrekker Editor Janet Fullwood a former newspaper travel editor. "Our contributors include professional travel writers, who are used to being critical in their assessment of travel claims and long-time dog travelers who know the difference between dog-unfriendly, dog-tolerant, dog-friendly and dog-passionate travel experiences."
Kendrick said, "The good news for dog owners is that DogTrekker's core competency is sniffing out dog-passionate properties that have clear and concise policies and practices in place. Once at a destination, DogTrekker.com provides safe and fun attractions and activities to enjoy with your pup."