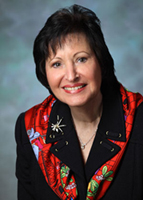 Dr. Feldman is a true university citizen.
NEW YORK, NY (PRWEB) March 10, 2013
Harriet R. Feldman, PhD, RN, FAAN, has assumed the role of dean and tenured professor of Pace University's College of Health Professions and the Lienhard School of Nursing. Gerrie Colombraro, PhD, RN, after serving as interim dean of the College of Health Professions for two years, has returned to her position as Associate Dean for Administration.
Dr. Feldman, who has just returned from sabbatical after serving for two years as Pace's interim provost, has been dean of Pace's Lienhard School of Nursing since 1993 and also served concurrently as interim dean of Pace's School of Education from 2006 through 2010.
"Dr. Feldman is a true university citizen," said Pace University President Stephen J. Friedman. "I am deeply grateful that she answered the call to serve as Pace's interim provost and I am delighted that she will now resume her leadership as dean of the College of Health Professions."
"I was privileged to serve the University as Interim Provost and am delighted to be back once again to lead the College of Health Professions as we pursue an exciting future with new programs to help educate the next generation of health care workers," Dr. Feldman said.
Dr. Feldman has testified before Congress and presented at conferences worldwide. For legislative work in addressing the nursing and nursing faculty shortage, she received the "Grassroots Star" award from the Association of American Colleges of Nursing. Dr. Feldman has written or edited more than 100 books, scholarly articles and editorials. Four of her books have earned "book of the year" awards from national nursing organizations. She is past editor of the journals "Nursing Leadership Forum" and "Scholarly Inquiry for Nursing Practice."
Dr. Feldman was principal author of a $1.3 million Helene Fuld Health Trust grant for career-changing nursing students in partnership with Health and Hospitals Corporation, and a $500,000 Helene Fuld Health Trust scholarship endowment. Also under her direction, Pace led a consortium of institutions that won a $1.03 million U.S. Labor Department grant funding healthcare facilities in exchange for Master's-prepared nurses to teach, enabling more nursing students to enroll. Lienhard was among the first institutions to receive funding from the Robert Wood Johnson Foundation (RWJF) through the New Careers in Nursing Scholarship Program to increase enrollment in Lienhard's Combined Degree Program.
Dr. Feldman is a Fellow of the American Academy of Nursing and of the New York Academy of Medicine. Professional memberships include the Commission on Collegiate Nursing Education (Board Member: 2003 to 2010); NY/NJ Nursing Spectrum Advisory Board (Board Member since 2002); Greater New York Organization of Nurse Executives; and the Eastern Nursing Research Society.
She earned her BS and MS degrees in nursing from Adelphi and a PhD in nursing science from New York University. She also completed two management development programs at Harvard University. She lives in Bellmore, NY.
Dr. Colombraro is happy to be back in her former role; she says, "It was an honor to serve as Interim Dean of the College and the nursing program, but I am very happy to be back 'home' in my role as Associate Dean."
About Pace University: For more than 100 years, Pace University has been preparing students to become leaders in their fields. A private university, Pace provides an education that combines exceptional academics with professional experience and the New York advantage. Pace has campuses in New York City and Westchester County, and enrolls almost 13,000 students in bachelor's, master's, and doctoral programs in the Dyson College of Arts and Sciences, College of Health Professions, Lubin School of Business, School of Education, School of Law, and Seidenberg School of Computer Science and Information Systems. http://www.pace.edu
About the College of Health Professions: The College of Health Professions was established in 2010 to showcase the breadth of health professions majors at Pace University. The College is made up of the Lienhard School of Nursing and the Pace University-Lenox Hill Hospital Physician Assistant Studies Program.