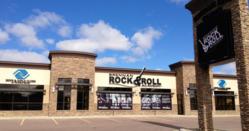 I'm thrilled to share my love for music with kids who would normally not be able to afford to chase their musical passions.
Sioux Falls, South Dakota (PRWEB) March 08, 2013
Chuck Brennan, CEO of Sioux Falls-based Dollar Loan Center and namesake of the Brennan Rock & Roll Academy, is planning a grand opening celebration that will live in infamy. A series of fundraising events beginning on March 26 will include performances from America's favorite rock and comedian stars including Night Ranger, Louie Anderson, Alice Cooper, Vince Neil and Stephen Pearcy among dozens of others.
Tickets are now available at http://www.brennanrockandrollacademy.com. All shows are fundraisers to benefit the Academy and Boys & Girls Club of the Sioux Empire, with an open house on March 29 that includes facility tours for the public.
Brennan, a South Dakota native, is a major donor to the Academy and has a lifelong passion for Rock & Roll music. Before founding Dollar Loan Center in Sioux Falls, he opened and operated one of the largest Rock & Roll concert halls in the Midwest, The Blitz Ballroom. Iconic bands including Joan Jett, Steppenwolf, Quiet Riot and Blue Oyster Cult all graced the stage at the Blitz during Brennan's ownership of the venue.
The Brennan Rock & Roll Academy will provide the first ever music education program for children in the Boys & Girls Clubs of the Sioux Empire, focusing on Rock & Roll instruments including guitar, bass guitar, keyboard, drums and vocals.
All events for the grand opening of the Brennan Rock & Roll Academy will be held in the facility at 900 W. 11th Street in Sioux Falls. The facility includes:

Nine rehearsal rooms
Pro Tools recording studio
4,000-square-foot exclusive concert hall
Kitchen & lounge area
Bus stop area for kids being dropped off & picked up
Students at the Academy will use donated instruments from Brennan's famous friends including five drum kits from Joey Allen of Pearl Drums and Founder of Warrant, Guitars from KISS, and others from Alice Cooper and Mick Fleetwood.
Student will also receive one-on-one lessons with professional musicians, along with band rehearsals to prepare for performances with their peers. Rock & Roll Ambassador Kory Van Sickle of Kory and the Fireflies will also speak with students and instructors, sharing his experiences and inspiring the future rock and rollers.
"I grew up with the Boys & Girls Club, and have a lot of respect for the work they do in our communities," said Brennan. "I'm thrilled to share my love for music with kids who would normally not be able to afford to chase their musical passions."
The Academy is located in the historic Sioux Falls loop, a neighborhood for which Brennan spearheaded a redevelopment project that has sparked an entire neighborhood revitalization over the past 10 years.
Brennan kicked off the Academy with a $250,000 upfront donation and a commitment to the program to get the entire state of the art facility up and running and keep it running for 20 years.
"I grew up just a few blocks from here and know first-hand how important it is for kids to explore their passions and be supported in that," said Brennan. "This school will change the lives of many Sioux Falls children. But we can't do it alone. We need the support of community members to make this into one of the finest Boys & Girls Clubs programs in the country, and a model for other communities."
Brennan, whose company operates in South Dakota, Nevada, Utah and California, has given hundreds of thousands of dollars to community organizations including Opportunity Village and Henderson Little League in Nevada as well as Alice Cooper's Solid Rock Foundation which helps at risk youth in the Phoenix area.
This year, the company was named a "Best Place To Work" in Southern Nevada by Vegas Inc magazine. Dollar Loan Center has received several industry awards from their peers for charitable work. For more information, visit http://www.dontbebroke.com.
Grand Opening Schedule of Events
Tuesday, March 26 Night Ranger
8:30 p.m. One of America's original rock bands, this multi-platinum selling group with hits including "Sister Christian", "When You Close Your Eyes" and the anthemic "(You Can Still) Rock In America" kicks off the grand opening events in rock-star style.
Wednesday, March 27 Louie Anderson and Superstar Guests
8:30 p.m. Award-winning comedian, author and television star Louie Anderson will share his experiences as one of 11 children growing up in Minnesota to the glitter of Hollywood and life in the fast lane. Louie will be joined by reality television phenoms Rick and Corey Harrison from the widely acclaimed History Channel show "Pawn Stars."
Thursday, March 28 Alice Cooper & Celebrity All Stars
8:30 p.m. An experience of a lifetime for rock music lovers! Rock legend Alice Cooper rock the house with friends including Kory & the Fireflies, Tommy Thayer and Eric Singer of KISS, Robby Krieger of the DOORS, Sebastian Bach, Joey Allen of WARRANT and Chuck Garric, currently on tour with Cooper. Come check out your rock star heroes at this epic event.
Friday, March 29 Rockin' Open House—Free to the public
Noon to 10 p.m. The public is invited for facility tours that will include complimentary food and drinks as well as performances by local bands. After 5 p.m., only guests 21 and over will be admitted.
Saturday, March 30 HAIRBALL concert for Boys & Girls Clubs members
3 p.m. A free performance exclusively for members of the Boys & Girls Clubs of the Sioux Empire. Popular Rock tribute band HAIRBALL will give club members an experience of a lifetime with fun and energetic rock show.
Saturday, March 30 Vince Neil and Stephen Pearcy with HAIRBALL
8:30 p.m. Mötley Crüe frontman Vince Neil is without a doubt one of the most iconic lead singers in rock history selling more than 80 million album copies worldwide. Neil will rock the house with multiplatinum selling singer and songwriter Stephen Pearcy of RATT. The prolific artists will be joined by HAIRBALL for an evening you won't forget.
*All performances include dinner and drinks. Maximum four-ticket purchase per person.