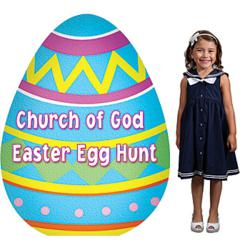 "Easter egg hunts, Easter parades and Easter pageants all continue to grow in popularity according to our sales figures for 2013," reports Keith Bansemer, Director of Internet Marketing with Shindigz, a leading party supplier
South Whitley, IN (PRWEB) March 08, 2013
Easter involves many traditions ranging from religious services at sunrise to chocolate Easter bunnies in baskets.
One favorite Easter tradition that is passed down from generation to generation are egg hunts. These usually are small family events or church sponsored gatherings, but some have grown in recent years to be much larger public gatherings.
Last year, the community of West Frankfort, Illinois was expecting 50 youngsters at their egg hunt event. Instead, over 250 children showed up ready to fill their baskets with colored eggs. This year Newtown, Pennsylvania is planning to hide 3,000 plastic eggs filled with candy and prizes for their community Easter egg hunt. Plus, the Easter Bunny will be on hand to greet the children.
The Guinness World Record for a hunt total 501,000 eggs. This scavenger adventure involved over nine thousand children at the Cypress Gardens Adventure Park in Winter Haven, Florida in 2007.
"Easter egg hunts, Easter parades and Easter pageants all continue to grow in popularity according to our sales figures for 2013," reports Keith Bansemer, Director of Internet Marketing with Shindigz, a leading party supplier. "Every year, we've seen a steady increase in orders for baskets, bunny stand-ins, and egg-themed favors tied to these events."
In Washington, D.C., the First Family will host the 135th annual White House Easter Egg Roll. This is a variation of an Easter egg hunt that began with President Rutherford B. Hayes in 1878. This year, the Obama family expects more than 35,000 people will be joining them on the South Lawn for games, stories, and the traditional egg roll.
Meanwhile, some communities have expanded Easter egg hunts to include furry family members. According to the Columbus Dispatch in Ohio, "Acme Training is holding an egg hunt just for dogs. The pooches will hunt for strategically placed treats, and the owner of the dog that can find the golden egg will win an Easter basket containing $100 in prizes."
About Shindigz
Since 1926, Shindigz has "made life more fun" for 23 million events through the manufacture and sale of personalized party supplies. It ships products from its facilities in South Whitley, Indiana across the United States and around the world to 59 countries. With more than 36,000 products, it provides customers with a complete party solution. For more information about Shindigz, go to http://www.shindigz.com.