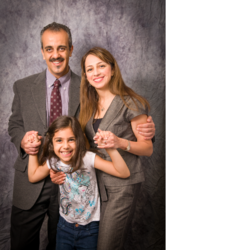 "While sleep apnea doesn't always directly affect the teeth, it is certainly an oral condition that can have adverse effects on patient's health. With this new device, we're able to treat OSA."
Issaquah, WA (PRWEB) March 10, 2013
Dr. Ray Besharati of Highlands Dentistry now treats patients suffering from sleep apnea by providing specialized oral devices that may be worn at night while the patient sleeps. Sleep apnea is a health issue that can impact people of all ages, including children. Because the air passageways are intermittently blocked while the person sleeps, breathing can stop hundreds of times during the night. Dental devices are worn to hold the mouth in a better position to optimize the airway during sleep.
Obstructive sleep apnea (OSA) is more common than Central sleep apnea (CSA). OSA is diagnosed when the airway becomes obstructed or blocked. This is often caused when the soft tissue in the throat collapses during sleep. A blockage occurs and the patient often wakes up gasping for breath. CSA is actually a problem with the muscles that control breathing. When they do not receive the brain's signal to move properly to allow breathing during sleep, breathing can stop.
While sleep apnea is not limited to any one population, there are those who are at a higher risk for this issue. This includes those who are overweight, particularly men; people over the age of 40; those with a large set of tonsils or a large tongue; people who have a deviated septum; those with a family history of this problem; those who have a large neck size; people with nasal obstructions from sinus issues or other problems, and people who have GERD. Many of those suffering from the problem have not been diagnosed.
Symptoms include choking sounds and loud snoring, fatigue, daytime drowsiness, waking up in the night and struggling to breathe, headaches upon awakening, and easily falling asleep during the day. The extreme drowsiness and fatigue can be very dangerous, particularly for people who must stay alert for their employment. Oral devices designed to hold the tongue in the proper place or those that position the jaw to help keep the airway open may be used to counteract the problem. More information about sleep apnea and possible treatment methods may be found at http://www.IHDentistry.com.
Treating sleep apnea has many benefits that range from the obvious cardiovascular ones to the less obvious benefit of relief for second-hand snoring sufferers. This condition impacts the bedtime partner of a person with sleep apnea. The partner simultaneously experiences sleep deprivation due to the partner's loud snoring and choking sounds at night.
"At our practice, we really like to look at the entire treatment plan for our patients and how it affects their overall health and well-being," Dr. Besharati said. "While sleep apnea doesn't always directly affect the teeth, it is certainly an oral condition that can have adverse effects on patient's health. With this new device, we're able to treat this Condition."
Highlands Dentistry is a general practice offering patients personalized dental care for Issaquah, Sammamish, Snoqualmie and neighboring cities. As a Husband and Wife team, Dr. Araghi and Dr. Besharati both attended Tufts University, School of Dentistry. They are part of one percent of dental professionals providing the most recent FDA cleared laser procedure for gum disease, periodontal treatment and No Shot Dentistry for Kids. To learn more about Highlands Dentistry and their services visit their website at http://www.IHDentistry.com and call (425) 996-0457.