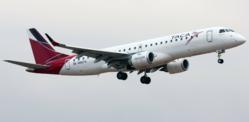 Fort Lauderdale, Florida (PRWEB) March 12, 2013
Jetscape announces the sale of one (1) Embraer E190AR (MSN 19000265) aircraft currently on lease with TACA International Airways to Air Lease Corporation of Los Angeles, California. This aircraft was part of Jetscape's initial firm E-Jet order with Embraer and is one of two new aircraft that were delivered by Jetscape to TACA in March of 2009 on eight year operating leases.
About Air Lease Corporation (NYSE: AL)
ALC is an aircraft leasing company based in Los Angeles, California that has airline customers throughout the world. ALC and its team of dedicated and experienced professionals are principally engaged in purchasing commercial aircraft and leasing them to its airline partners worldwide through customized aircraft leasing and financing solutions. For more information, visit ALC's website at http://www.airleasecorp.com.
About TACA International Airlines
Originally established in 1931, the El Salvador and Honduras flag-carrier, operates a fleet of Airbus A320 family and Embraer E190 aircraft to 39 destinations in 22 countries in North, Central and South America and the Caribbean, including daily flights to 9 major U.S. cities and Toronto, Canada, as well as important business and leisure centers in South America and the Caribbean. Parent company Grupo TACA is made up from the former carriers TACA, LACSA, NICA and Aviateca. The operation is supported by a consortium of five regional airlines within Central America and an affiliate in Peru.
About Jetscape
Jetscape was founded in 2000 and engages in commercial aircraft leasing, management, remarketing and advisory services – providing innovative, custom-tailored solutions to commercial aircraft owners and operators worldwide. Jetscape currently owns and manages 47 aircraft with 22 airline operators in 15 countries. Jetscape is also the exclusive remarketing agent for 7 aircraft on behalf of 2 airline customers.