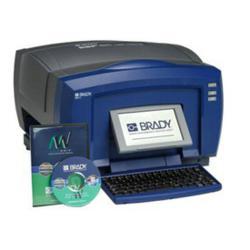 Branford, Conn. (PRWEB) March 10, 2013
Seton, a global manufacturer and distributor of safety products, is one of the first companies to offer the new BBP®85 label printer made by Brady Corporation.
They say the Brady BBP85 Label Printer is big, bold, and better than ever. And they're right. You can use the BBP85 industrial printer to create multi-color labels and signs as wide as 10" with just the click of a button.
One of the key features of the BBP85 printer is that it uses a simple touch interface, so it can be used as a stand-alone printer, or it can be plugged it into a PC using MarkWare™ Software to print signs and labels directly from your computer.
Seton recognizes the advantages of offering the Brady BBP85 to its customers interested in printing beyond the norm of labels or signs; in fact, the BBP85 has the capabilities to print custom pipe markers in just minutes. Customers can choose from an assortment of pipe marking tape colors and cartridge colors to help keep their facility organized and up to code.
With the BBP85 printer, customers can print pipe markers at widths ranging from 4-10" wide with just the click of a button. It's that easy. Tired of waiting for custom pipe markers to be delivered? The BBP85 prints pipe makers instantly, eliminating wasted time, and offering a more economical choice.
What's more is pipe makers made using the BBP85 come out with a professional, custom look and feel, every time, guaranteed.
Not sure what you want? Seton's best in class customer representatives are expertly trained on all the products Seton has to offer, which means they can easily help you find the perfect label printer for your sign and label needs.
###
For over 55 years, Seton has been the source for safety, labeling and signage solutions. Seton offers over 250,000 products, all of which are designed to increase workplace safety and enhance facility marking applications for millions of customers around the globe. For more information, visit http://www.seton.com/.