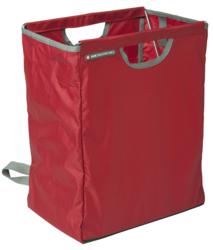 Vergennes, VT (PRWEB) March 11, 2013
ADK Packworks, an innovative bag and pack company, has announced the debut of its reusable grocery bag, The Grocer. This innovative new take on the classic Adirondack pack basket includes a semi-rigid internal frame and a flat bottom for increased stability, independent of the load, to keep your groceries standing upright.
The Grocer is the greatest evolution in a reusable grocery bag industry that has seen little innovation since the need for an eco-friendly bag was identified, building off the 150-year old concept of the tried and true Adirondack pack basket that was built for carrying heavy loads. ADK basket packs were originally made using black ash wood splints, split to a thin ribbon, hand pounded to a satin finish, and then intricately woven together. The flat-bottomed pack baskets were used by settlers and hunters to efficiently carry game, fish and gather fruit, while leaving their hands free. ADK Packworks has modernized this classic concept to address the shortcomings of reusable grocery bags by designing a structure that stands up on its own and stays open so it's easily loaded and unloaded, while also allowing it to hold more than the typical paper or plastic grocery bag.
This lightweight, durable, eco-friendly grocery bag takes up little space, as it stands tall when in use, but folds up when it needs to be stored. The Grocer can be adjusted for three different carrying options (two-handled, over-the-shoulder, and backpack style) and gives you additional flexibility when you are on the go with an optional insulated liner that is great for keeping your groceries cold. This multi-purpose tote is large enough to carry everything you will need and is perfect for groceries, but is also a versatile solution for packing a bag when going to the beach, taking a hike, or spending time on your boat. With The Grocer you can easily remove the durable ripstop nylon bag from the frame to hand wash it and avoid the health risks of bacteria build up that can form in reusable bags.
"There has been no evolution in the reusable grocery bag over the years and we felt that there needed to be an alternate solution in this category, one that was still environmentally conscious, but increased overall functionality. Our inspiration for The Grocer stemmed from the most timeless utility pack ever invented: the Adirondack pack basket," said ADK Packworks Co-Founder Doug Rumbough.
The Grocer is available in three different color ways (green, grey and red) and can be purchased at select New England retailers or online at http://www.adkpackworks.com. MSRP is $25.
###
About ADK Packworks
ADK Packworks, headquartered in Vergennes, VT, was founded by Doug Rumbough and the Linckia Development team (http://www.linckia.com), a group of seasoned entrepreneurs who have developed and grown multiple consumer product businesses to successful exits, including NEOS and Ulu Footwear. The executive team has significant consumer brand and operational experience and utilizes industrial designers and engineers who have a broad range of experience in the bag and backpack markets. The group brings a good sense of quality design and living in Vermont, they are rooted in the importance of the environment and hope that The Grocer helps in reducing the waste that plastic and paper bags create. For more information, visit: http://www.adkpackworks.com.