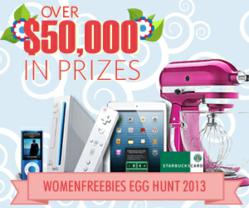 People are spending hours on our site – hunting for eggs, reading posts about their favorite brands, and saving money along the way.
(PRWEB) March 13, 2013
Throughout the month of March, WomanFreebies.com is giving away thousands of gift cards along with big-ticket items from a number of popular brands including Target, Walmart, M&M's, KitchenAid, and Starbucks, as part of their second annual online Easter Egg Hunt. Their lucky audience has the chance to win by finding hidden Easter eggs while browsing the WomanFreebies.com website.
"Be sure to like our Facebook page, follow us on Twitter, follow us on Pinterest, and read our newsletter for updates on the contest and extra chances to win," says Emma Craig, Blog Manager at WomanFreebies.com. "People are spending hours on the website – hunting for eggs, reading posts about their favorite brands, and saving money along the way."
Last year, the contest gave out over $22,000 in prizes. The WomanFreebies.com Facebook page also went viral with fans raving about the gift cards from their favorite brands and liking posts in order to increase the number of prizes available. Because the campaign was a huge success, Craig and the WomanFreebies.com team expanded their reach this year to include their Canadian site, WomenFreebies.ca.
For those people looking to do some hunting, Craig gives some tips. She says luck plays a huge part in who will find eggs, but hunting smart won't hurt either. "The eggs don't move around but are hidden on various blog pages and are set to appear only a percentage of the time. Each page has different odds of winning so don't just keep refreshing the same page over and over," says Craig.
This year they've made it even easier for their followers – WomanFreebies.com readers can hunt for eggs on any browser and even on their mobile site. So hop on over to WomanFreebies.com today and join the hunt!
WomanFreebies.com is a website dedicated to bringing consumers all the best free samples, coupons, and sweepstakes in the US. They post new deals on their website daily with the goal of helping consumers save money.