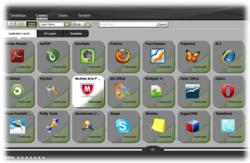 All of the application and image management issues we had with our first attempts at VDI became a non-issue with Unidesk.
Marlborough, Mass (PRWEB) March 11, 2013
Unidesk Corporation, the leading provider of application delivery, image management, and provisioning software for cloud-hosted desktops, announced today that the City of Yuma, Arizona is implementing Unidesk® with Dell Desktop Virtualization Solutions (DVS) as part of its city-wide desktop computer replacement program. The move to Virtual Desktop Infrastructure (VDI) is already helping the city to increase the efficiency of the Department of Information Technology Services (ITS), enhance mobility and application access for city workers, and cut power utilization.
The City of Yuma is a full service, council-manager form of government which employs approximately 1,000 full and part-time employees in fourteen departments. Public services include police, fire, water and waste water utilities, solid waste, parks, recreation, and arts and culture. With many of the city's PCs in need of replacement, and with the 2013 plan calling for cost reduction, energy conservation, and improved service delivery, VDI was seen as a natural way to help achieve the plan's objectives.
Working closely with Dell, the City of Yuma had already completed a successful migration of many of its physical servers to a virtualized environment. The city turned to Dell again for VDI expertise and assessment services before selecting Dell EqualLogic storage and Dell PowerEdge servers virtualized with VMware vSphere® as its VDI platform. Access to the new virtual desktops is provided through repurposed PCs and energy-efficient Dell Wyse zero clients, with connections brokered by VMware Horizon View™. But it is VDI management software from Unidesk that has really enabled the project to take flight.
"Unidesk layering technology made desktop virtualization feasible for us," said Ty Cook, Network Administrator, City of Yuma. "Our initial attempts at VDI stalled because of the time and expense required to deliver our applications with standard application virtualization tools. We have an inventory of over 150 different apps used by workers across our departments. Unidesk is the only solution we found that enables our internal IT staff to package, update, and deliver all of our apps quickly and easily, without limitations."
The city is now using Unidesk to create its non-persistent and persistent virtual desktops, deliver its diverse set of public safety, finance, public works, and administrative applications, and reduce VDI storage requirements.
Desktop Layering – A Simpler, More Powerful Approach to VDI Management
Many organizations experience the same challenges as City of Yuma when trying to implement virtual desktops using only the management features of the leading brokering solutions:
-- Full-sized persistent virtual desktops require too much costly SAN storage;
-- Non-persistent desktops are more storage-efficient, but too many applications cannot be easily virtualized;
-- Building applications into the base image of Microsoft Windows adds licensing costs, or results in different VDI images for every department and subgroup, making patches and updates costly and time-consuming;
-- Profile management tools for VDI cannot capture all user customizations, or provide fast, easy fixes to common desktop break/fix problems.
Unidesk desktop layering technology is the simpler, more powerful way to create desktops, package applications, manage images, keep user changes, and optimize storage for Citrix XenDesktop and VMware Horizon View:
-- Unidesk creates persistent or non-persistent virtual desktops using 70-90% less storage capacity than full-sized virtual desktops.
-- Applications can be packaged in minutes as independent "layers" separate from the Windows operating system, and assigned to one or more desktops as needed. Application licensing and scripting challenges vanish, and patches can be made once to update all desktops. Removing application layers is just as easy.
-- One gold image of Windows can be used for all desktops, making operating system patches and updates highly efficient.
-- Profile management tools are no longer needed, since Unidesk persistent desktops keep all user customizations, including user-installed applications. Unidesk also enables service desk staff to quickly resolve common desktop break/fix problems by undoing IT and end user changes.
Commented Cook, "All of the application and image management issues we had with our first attempts at VDI became a non-issue with Unidesk. Layering gives us a modular, straightforward way to package and update all of our apps independent of our base Windows image. The old danger of taking down lots of desktops because we have to patch an image just to update an app has gone away. And with Unidesk's ease of use, the same team that supported our physical PCs can support our VDI environment."
Tweet This: City of Yuma deploys virtual desktops with @UnideskCorp #VDI management, @vmwareview, and @DellEnterprise – http://bit.ly/15lNyfD
About Unidesk
Unidesk Corporation provides the management platform that accelerates the movement of desktops to the cloud. Designed for Virtual Desktop Infrastructure (VDI), Unidesk® desktop layering software is the simplest and most powerful way for IT organizations to deliver applications, manage images, sustain user customizations, and optimize storage for Microsoft Windows® desktops hosted on VMware vSphere®. By using Unidesk to create, manage, and repair desktops for Citrix XenDesktop®, VMware Horizon View™ and other brokering solutions, customers can accelerate VDI projects, reduce desktop operations costs up to 30%, cut VDI storage costs up to 90%, and foster a more productive workforce. Unidesk is available through an expanding network of solution partners. Unidesk Corp. is a privately-held company with headquarters in Marlborough, Mass, USA.
# # #
Unidesk is a registered trademark of Unidesk Corporation in the United States and/or other jurisdictions. All other trademarks and registered trademarks are property of their respective owners.