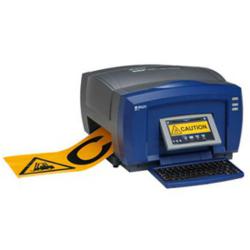 Buffalo, NY (PRWEB) March 10, 2013
Not long after Brady Corporation released its newest label printer, Emedco announced that it would be among the first to carry the highly anticipated BBP®85 industrial printer.
Emedco, who is known as an industry leader in custom signs, recognized the sign printing benefits the BBP85 printer has to offer and jumped at the chance to carry it.
The Brady BBP85 comes with hundreds of symbols, headers and graphics and can handle materials between 4" to 10" wide. The Brady BBP85 label printer can also print up to four colors on a single label and can even print directly onto rigid signs.
Emedco also offers many different printer ribbons and tape colors available, which means customer can create the custom sign they want on the spot.
With so many built-in options, Emedco says the BBP85 has the potential to significantly reduce the cost of purchasing custom signs, not to mention reduce wasted time waiting for custom signs to be shipped.
The BBP85 was designed to work both as a stand-alone printer or to be connected to a PC using a standard Ethernet cord. The printer's keyboard design is also easy to use and features a modern touch screen interface.
Emedco's customer service representatives are highly trained on the properties and uses of all the industrial printers they offer, which means customers can rest assured an expert will be helping them to choose the best printer for their needs.
###
About Emedco
Emedco offers more than 225,000 products, including traffic & parking signs, hundreds of custom products, safety tags, as well as exit, fire & emergency products, which are designed to provide safe and secure solutions for all businesses. For more information, visit http://www.emedco.com.