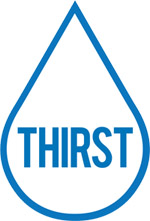 Austin, TX (PRWEB) March 09, 2013
News Facts:

One year after winning first place at SXSW's Accelerator Competition in the social category, San Francisco-based Thirst Labs returns with a SXSW Featured Newspaper that lets people "Keep Up with What's Up" at the show.
Using Thirst's SXSW Featured Newspaper, attendees can discover, share and discuss SXSW-related news by topic on a single platform that combines social discussion with timely, personalized content from around the Web.
Thirst Labs will provide detailed daily analytics of the top five topics being discussed in the music, film and interactive categories at SXSW.
Thirst Labs has published a dynamic infographic showing a time-lapsed view of the top 20 topics being discussed throughout SXSW http://thirst.co/visualizations/sxsw.
Where to Find Thirst at SXSW:
March 9 – Celebration of American Startups
Austin City Limits Live
310 Willie Nelson Blvd
Austin, TX 78701
http://www.austinchamber.com/StartupTX-SXSW-ACL-event.php
(512) 225-7999

7:00 – 11:30 PM: Visit the Thirst Labs booth located on the patio
March 9, 10 & 11 – Thirst at Caffé Medici (located in the Austonian)
200 Congress Ave #2B
Austin, TX 78701
http://www.caffemedici.com/
(512-827-2770)

10:00 AM – 12:00 noon: Thirst Labs' CEO Anuj Verma will be available on a drop-in basis.
Anytime during normal business hours: Try out Thirst on iPads located throughout the café.
March 9 - 12 – By appointment at SXSW

Contact Magnify Communications to schedule a briefing with Thirst Labs at SXSW
How to Download Thirst and View Thirst's SXSW Featured Newspaper:

To use Thirst's SXSW Featured Newspaper, download the Thirst iOS app or login to Thirst online at http://www.thirst.co/, then look for the SXSW module on the "Explore" tab.
About Thirst Labs
Thirst Labs bridges the gap between how people get their news and where they engage with it. Thirst Labs was founded by Anuj Verma and Kunal Modi, UC Berkeley graduates specializing in UI, UX, algorithms and architecture. Winner of first prize at the 2012 SXSW Accelerator Competition in the social category and the Judges' Choice award at GigaOM's Mobilize 2012 LaunchPad, the company's investors include BlueRun Ventures, Steve Newcomb, and Jason Krikorian. Thirst Labs is headquartered in San Francisco, Calif. For more information, visit thirst.co.