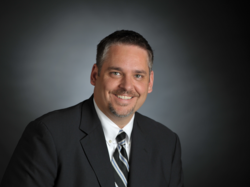 Knotts provides unique expertise in technology product and solutions to companies looking to manage their budget and grow their business.
Crofton, MD (PRWEB) March 08, 2013
Force 3, delivering the best in federal security, unified communications, networks, data center, and medical imaging solutions, today announced the appearance of Chief Technology Officer, Chris Knotts, on Your Money and Business, a Maryland Public Television program focused on consumer business topics and regional industry expert profiles.
The lead segment focused on how to make the most of your company's information technology resources at a time when IT budgets continue to be cut. Knotts' conversation with host Jeff Salkin revealed creative tactics companies can use to achieve their business goals using the technology infrastructure they currently have in place or available within their current budget.
Knotts' unique expertise in technology product and solutions development illuminated the need for cost-effective support services to help organizations extend the life of their hardware and the capabilities of their infrastructure. Force 3 recently committed to providing this type of support and cost savings solutions through their managed services brand known as Support+.
"We are thrilled to have Chris featured on Maryland Public Television to offer his expert guidance to companies looking for creative technology solutions to manage their budget and grow their businesses," said Les Trachtman, CEO of Force 3.
Salkin also questioned Knotts about designing infrastructure for future growth, support security, and current job demand in the federal and IT sectors. The complete edition, which originally aired on February 28, is now available online at MPT.org.
Chris Knotts is the Chief Technology Officer at Force 3, leading Force 3's product and solutions development initiatives. Over the past 18 years, Mr. Knotts has served the technology industry in various technical, executive, and advisory roles. He served as a wireless technologist with the Office of the Secretary of Defense (OSD) at the Pentagon and holds multiple patents on text messaging technology.
For more information, please visit http://www.force3.com or http://www.mpt.org.
About Force 3
Force 3 is the trusted provider of Data Center, Communication and Collaboration, Borderless Networks, Cyber Security services, and Medical Imaging Solutions for Federal agencies, Enterprise organizations and their key partners. With headquarters in Crofton, Md. and offices in Herndon, Va., for over two decades Force 3 has delivered and supported cost-effective IT solutions for the Federal government and industry. At Force 3, we have a relentless focus on our customers' success through innovation, unique solutions and highly trained, passionate people. Our dedication has resulted in being named one of Cisco's Top Federal Partners, as well as Federal Collaboration Partner of the Year in 2012. For more information, please visit http://www.force3.com.