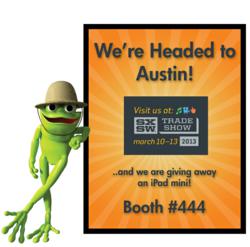 "In a primarily digital world, I believe that the traditional handshake is still significant to building long-lasting business relationships"
Austin, TX (PRWEB) March 08, 2013
eZanga.com, a search engine and online advertising company, will be attending South by Southwest (SXSW) to exhibit at the SXSW Interactive trade show. eZanga.com will be exhibiting at booth #444. It will be the company's first year attending the festival and trade show.
The company has a strong presence at industry trade shows, exhibiting and speaking at digital marketing events such as ad:tech, Search Engine Strategies (SES), Search Marketing Expo (SMX), Affiliate Summit, and Direct Marketing Association's DMA events.
"In a primarily digital world, I believe that the traditional handshake is still significant to building long-lasting business relationships," says CEO Rich Kahn. "We travel year-round to connect with our network and meet people face-to-face."
eZanga's presence at SXSW represents a shift in the company's event marketing strategy towards one focused on building relationships with professionals in a variety of industries. The company is continuing to introduce products targeted at a wider range of advertisers across multiple industries and believes it's important to build face-to-face relationships with these professionals, as well.
The trade show is being held in Exhibit Halls 3 and 4 of the Austin Convention Center from Sunday, March 10 to Wednesday, March 13. The exhibition halls will be open from 11:00 a.m. – 6:00 p.m. on Sunday through Tuesday, and 11:00 a.m. – 4:00 p.m. on Wednesday.
About eZanga.com
eZanga.com is a search engine that specializes in multiple forms of online advertising and developed its own proprietary anti-click fraud technology. The company was founded in 2003 by Beth and Rich Kahn and is currently led by Angel Pabon, Beth Kahn, and Rich Kahn. eZanga.com has made the Inc. 5000 list five years in a row and the SmartCEO Future 50 list the past three years.
About SXSW Interactive
The 20th annual SXSW Interactive Festival will take place March 8-12, 2013, in Austin, Texas. The event features five days of compelling presentations from the brightest minds in emerging technology, scores of exciting networking events hosted by industry leaders and an unbeatable line-up of special programs showcasing the best new websites, video games and startup ideas the community has to offer. From hands-on training to big-picture analysis of the future, SXSW Interactive has become the place to experience a preview of what is unfolding in the world of technology.
About SXSW Trade Show
The SXSW Trade Show is the heart of the converging industries experienced at SXSW. The four-day show celebrates the organizations that define the ever-evolving relationship between media, technology, creators and consumers.