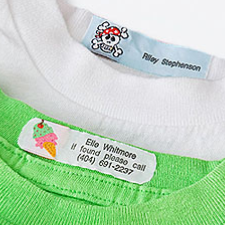 Atlanta, GA (PRWEB) March 08, 2013
NameMaker, maker of iron-on clothing labels since 1938, announces the debut of its newly redesigned website. The site features an updated look and user-friendly format.
"We offer a very wide array of products which appeal to a customer base that is diverse in terms of age and shopping needs," says Cheryl Dorrell, president and CEO of NameMaker. "We wanted our website to be organized, easy to navigate, and searchable across our many different areas of interest, which include sewing, knitting, crafting, clothing identification, product branding, gift-wrapping, party and event planning, weddings and showers. Our new site delivers on each of our criteria."
While NameMaker is popular with event and party planners, with products suited for weddings and showers, along with other special occasions, the line also appeals to the crafting and hobby markets. In recent years, NameMaker has attracted attention from media and the public alike. Celebrity clients like Dakota Fanning, Reese Witherspoon, Oprah Winfrey, and Martha Stewart prove NameMaker personalized labels, ribbon, and gift wrap appeal to people of all ages and occupations.
NameMaker's skilled artisans personalize each item to the customer's specifications, making it a one-of-a-kind, handmade creation. NameMaker also provides personalized waterproof sticker labels to affix to school and office supplies, food containers and other items requiring a more permanent labeling solution. Because of NameMaker's commitment to quality, labels will remain on clothing and other surfaces through multiple washes and uses.
Thanks to its revamped site, NameMaker's customers can easily order labels, specifying text for personalization. Customers can browse NameMaker's many designs, choosing quantities and ordering directly on the site. For last-minute events, NameMaker can process rush orders at an extra charge, expediting delivery to ensure prompt delivery. Non-expedited personalized orders can be to customers in as little as 15 business days, with cotton-woven labels taking six weeks as they are manufactured in Europe.
Businesses can benefit from NameMaker's wholesale ordering discounts. NameMaker authorizes dealers to sell their products in stores or on websites, including customized gift wrap and ribbons that can feature special occasion messages.
Truly setting itself apart in the industry, NameMaker recently added authentic vintage labels to their product line. These labels were discovered in NameMaker's warehouse, many of them dating back to 1938. Customers can purchase these labels in sets of ten, choosing from labels that read, "From the Knitting Needles of," "Hand Made By," or "Hand Knit By." NameMaker emphasizes that these labels are ideal for small businesses or artisans, including those with online shops on sites like Etsy. The labels appeal to vintage sewing and crafting enthusiasts, as well.
"These vintage sewing labels are a rare find so I decided to offer them to our customers so all could relish in the nostalgia," Dorrell says.
To browse NameMaker's selection, visit its newly-designed website at http://www.namemaker.com/.