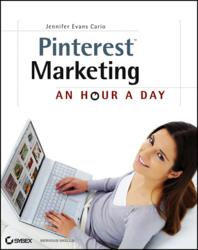 This book aims to help marketers and business owners alike better understand how to leverage Pinterest for increased traffic, loyalty and conversions.
San Francisco, CA (PRWEB) March 15, 2013
Sybex, an imprint of Wiley, announced today the publication of Pinterest Marketing: An Hour a Day (Wiley/Sybex, 978-1-118-40345-7, US $29.99), a step-by-step, task based guide for developing and executing a complete Pinterest marketing strategy. Pinterest, today's fastest-growing social media site, is an essential new platform for marketers and publicists working to build a brand and drive traffic to their own sites.
This comprehensive guide empowers businesses and marketers to craft, implement, measure and optimize a successful Pinterest marketing plan. The first chapters lay an important foundation and explore what factors make Pinterest unique and so appealing. The book then gets readers up to speed on Pinterest's fundamentals, showing readers how to set up an account, curate winning content, find followers and track and monitor Pinterest traffic. Readers then develop a strategic plan based on their core goals and then learn how to do everything from engage followers, attract traffic, market via Pinterest contests and more.
"Pinterest isn't just for recipes and weddings anymore," said author Jennifer Evans Cario, "Businesses like Chobani, REI, Etsy, West Elm and Nike are embracing this image driven social sharing network and using it to drive impressive amounts of traffic back to their web sites. The good news is, building a strong Pinterest strategy isn't difficult. This book aims to help marketers and business owners alike better understand how to leverage Pinterest for increased traffic, loyalty and conversions."
Written in the popular Sybex "An Hour a Day" format, the book features a detailed, step-by-step, how-to approach and includes numerous case studies, tips, and interviews with successful Pinterest marketers. For any marketing professional looking to gain exposure to Pinterest's millions of users, Pinterest Marketing: An Hour A Day provides the know-how and confidence to market any business on today's hottest social media platform.
Pinterest Marketing: An Hour A Day is now available for purchase online and at retailers nationwide in both print and all e-book formats. For a list of retailers, visit http://www.wiley.com/buy/9781118403457.
About the Author
Jennifer Evans Cario is founder of SugarSpun Marketing, where she does corporate social media training and strategic consulting with clients ranging from small businesses to large health care conglomerates. She's also Editor in Chief of Search Engine Guide, one of the most popular small business marketing sites on the web and reaches more than 250,000 small business professionals each month. Jennifer is also the Social Media Faculty Chair for internet marketing trainer Market Motive and a frequent speaker at such industry conferences as Search Engine Strategies, SMX and Pubcon.
About Sybex®
For over 30 years, Sybex has published premium learning products and solutions for current and aspiring professionals working with cutting edge technologies. Our customers come from every corner of the globe and work in a variety of industries, but they all have one thing in common—the drive to acquire the serious technical skills needed to excel in a competitive marketplace. Wherever you are in your career, Sybex can help you achieve your goals. For more information, visit sybex.com. Sybex is an imprint of Wiley.
###