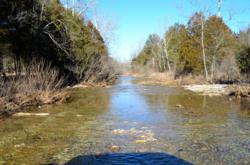 The auction route allows the land to be broken up and sold in various smaller parcels, which will allow for more people to own land at a reduced price than purchasing one vast forested piece of land
Kansas City, MO (PRWEB) March 11, 2013
Qualified buyers will have the opportunity to purchase 680± acres of land in Missouri land and know the proceeds will go toward creating a better future for local children. The recreational property – located in Franklin, Jefferson and Washington counties – will be sold in eight contiguous tracts or any combination of acreage. All proceeds will go to servicing the construction costs for the new, recently completed Westminster Christian Academy, the second largest independent private secondary school in the greater St. Louis metro area.
The school board of directors decided the use of the land did not fit into the new five-year strategic plan for the college preparatory school and to continue paying property taxes on a large tract of land without using it to directly benefit their graduates did not make sense.
"We initially offered to sell the land in one single tract exclusively to the immediate Westminster community," said Steve Lauer, director of development for Westminster Christian Academy. "Although we received many offers, none satisfied what we felt reflected the true value of the land. The auction route allows the land to be broken up and sold in various smaller parcels, which will allow for more people to own land at a reduced price than purchasing one vast forested piece of land."
This live event is being conducted by United Country – Trophy Properties and Auction of St. Louis, Mo., in conjunction with United Country – Missouri Land & Home of Columbia, Mo. The April 9 auction will take place on the Westminster Christian Academy campus located at 800 Maryville Centre Drive in Town & Country, Mo. Registration for the event will begin at 6 p.m., and the auction will take place at 7 p.m. The property will be available for viewing from 11 a.m. to 1 p.m. on both Tuesday, March 19 and Saturday, March 30.
This deer and turkey hunting land consists of roughly 680 acres located approximately an hour from St. Louis, Mo. The acreage will be offered in eight contiguous tracts ranging from 55 to 121 acres in size. Three of the parcels feature creek access.
"Our seller recognizes the value of using an accelerated method of marketing – in other words, an auction – to sell their property," said Ken Dayley, former St. Louis Cardinal and land specialist with United Country – Trophy Properties and Auction. "What does this mean for buyers? It means they have the opportunity to purchase part or all of a great recreational acreage within an hour of St. Louis at an affordable price. Today's market conditions and the auction format allow sellers and buyers to come to a meeting of the minds quickly with a competitively achieved fair market value. In times like these, an auction is the best way to establish what real market value is."
Detailed information about the property for sale, as well as details about the auctions, can be found online at WestminsterLandAuction.com. United Country – Trophy Properties and Auction by reached by phone at 314-409-4568 or email at kdayley(at)trophypa(dot)com.
About Westminster Christian Academy
Westminster Christian Academy is nationally recognized as a top independent, coeducational, college preparatory school serving 964 students in grades 7-12. Westminster provides an academically diverse student body with knowledge in the traditional liberal arts and the skills and wisdom to apply that knowledge, encouraging students to embrace a biblical worldview and integrate it into every area of life. The St. Louis Business Journal recently ranked Westminster as 2nd largest independent private secondary school in the greater St. Louis metro area. For more information, visit http://www.wcastl.org.
About United Country
United Country Real Estate is the largest fully integrated network of conventional and auction real estate professionals in the United States and Latin America. The company has been an innovator in real estate marketing since 1925. United Country supports nearly 550 offices across the U.S., Costa Rica, Panama and resort areas of Mexico, with a unique, comprehensive marketing program that includes one of the largest portfolios of property marketing websites (more than 3,500 separate sites and traffic of approximately 3 million visitors per month), multiple United Country real estate catalogs and third-party lifestyle magazines with national distribution , an extensive buyer database and other national advertising of local properties that reaches more than 90 million homes per week. United Country has recently been recognized by Franchise Business Review, AllBusiness.com, The Land Report, Entrepreneur and The Wall Street Journal as one of the top U.S. real estate companies.