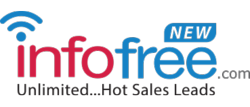 San Mateo, California (PRWEB) March 12, 2013
Infofree.com, the leading provider of unlimited sales leads and mailing lists for salespeople and small businesses, is now offering a special price of only $449 for a year of access to its revolutionary application.
Finding and utilizing the right sales leads can mean the difference between the success or failure of a business. infofree.com offers the most expansive database of over 300 million leads, including 15 million businesses, 225 million consumers, 100 million homeowners, 25,000 new businesses per week, and hundreds of specialty databases.
For only $49.95 per month, subscribers to infofree.com can enjoy unlimited search and view of the entire infofree.com database, download 4,000 records each month, and pay only a penny a name for any records downloaded after that -- the lowest price anywhere in the industry. Subscribers can target their leads across any geographical location, by the presence of phone numbers, and by dozens of specific criteria, ensuring that each salesperson has the right leads to find the customers that they need to grow their sales.
"Light a fire underneath your salespeople with high quality sales leads from infofree.com. My former companies are household names among small businesses and salespeople, and now I am offering a comparable product at an even better price," says Vin Gupta, Founder of infofree.com.
To try infofree.com for free, call 877.448.0101 for more information.
About Us: infofree.com™ is revolutionizing the sales lead and mailing list industry by providing unlimited search, select, and view of over 15 million business records, 225 million consumers, and hundreds of other specialty databases for the low, flat price of only $49.95 per month or $449 per year. Reach new homeowners, new movers, newlyweds, new businesses, and more.
The infofree.com content is compatible with the following platforms: Oracle CRM, Salesforce CRM, Microsoft CRM, Nutshell CRM, Goldmine CRM, Sage ACT! CRM, Highrise CRM, Zoho CRM, NetSuite CRM, SAP CRM, Constant Contact, RightNow Technologies, Responsys, Vertical Response, and Dun & Bradstreet.