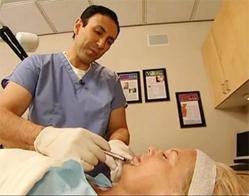 Los Angeles, California (PRWEB) March 08, 2013
According to a February 14, 2013 CBS report, a Kennewick, Washington woman was issued a cease and desist order for giving Botox injections without having a medical license. (Go to: goo.gl/VMSJA)
"In California only a licensed medical professional can provide Botox injections," says Dr. Simon Ourian, Medical Director of Epione Beverly Hills. "As in Washington, no esthetician is qualified or legally permitted to provide this medical treatment. In our office, though we have two Registered Nurses on staff, I'm the only one that does Botox or dermal filler injections."
Receiving Botox from someone who has not been properly trained in its administration can cause harm. In some cases, the harm can be relatively small, such as uneven lips. Improperly injected Botox can lead to a condition called ptosis, in which causes the eyebrow comes down unnaturally. In truly severe cases, administering Botox injections without the right training could cause paralysis.
Most people turn to an unlicensed person for Botox because they want to save a little money. Mistakes made by someone who is not licensed can cost the patient thousands of dollars to have fixed. Cost aside, risking one's safety to save a few dollars is never a good idea.
When looking for Botox treatments, patients should always have safety as one of their main priorities. Dr. Ourian created a five point checklist for anyone seeking a safe and effective Botox experience. First and foremost, choose a qualified medical professional. Then make sure that the treatment will be performed in a sterile environment.
"If the four clients of this esthetician had followed my checklist," concludes Dr. Ourian, "they would never have put themselves in the position to be victimized. The esthetician doesn't even make it past the first checklist item. And though the article doesn't say so, it's not likely she was working out of a doctor's office."
Dr. Ourian has been a pioneer in laser technology and non-invasive aesthetic procedures including Restylane, Juvéderm, Radiesse and Sculptra. These treatments are used for the correction or reversal of a variety of conditions such as acne, acne scars, skin discoloration, wrinkles, stretch marks, varicose veins, cellulite, and others. More information about Botox safety can be found on Epione's website.