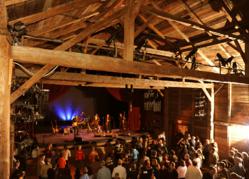 Vienna, VA (PRWEB) March 08, 2013
Catie Curtis
Special Guest:
Jenna Lindbo
Thursday, March 28 at 8 pm
$22
Catie Curtis
Lilith Fair alum Catie Curtis arrives at The Barns at Wolf Trap to deliver her lyrically charged, pop-infused folk-rock anthems. Dubbed a "folk-rock goddess" by The New Yorker, Curtis has released 12 albums—her most recent being Stretch Limousine on Fire (2011)— and performed onstage with the likes of Mary Chapin Carpenter, Patty Griffin, Dar Williams, and Melissa Ferrick. Recognized for her thematic lyrics touching on the ups and downs of life, Curtis won the 2005 International Songwriting Competition with "People Look Around," a song about the aftermath of Hurricane Katrina, which was co-written with Mark Erelli. Curtis's music has also appeared in popular television shows such as Grey's Anatomy and Dawson's Creek. In addition to making music, the celebrated singer/songwriter dedicates her time to advocating for social issues. In 2009 she performed at the Human Rights Campaign's Ball, along with Melissa Etheridge and Rufus Wainwright, in celebration of President Barack Obama's first inauguration.
Video: Catie Curtis – People Look Around
Jenna Lindbo
Americana singer/songwriter and storyteller Jenna Lindbo brings her folksy sound and cheerful spark to The Barns at Wolf Trap, as she performs her lush melodies and shares introspective lyrics. The Oregon-based musician recently released the album Jasmine Parade (2012), which features songs with Catie Curtis, Kai Welch (Abigail Washburn), Edie Carey, and Peter Mulvey. The emerging musician released her first album Strings & Spokes in 2010 and now tours frequently with Catie Curtis, who has served as a mentor of sorts. Curtis noted that Lindbo's songs turn "everyday details into magical stories that bring you to the edge of your seat."
Video: Jenna Lindbo – Josephine
The Iguanas
General Admission Dance
Friday, March 29 at 8 pm
$22
Progressive Americana trio The Iguanas present their eclectic mix of rock 'n' roll roots, jazz, blues, and Mexican conjunto music at The Barns at Wolf Trap. The Louisiana rockers' 2012 album Sin to Sin—which features upbeat Latino-flavored songs like "Oye Mi Cumbia,"—recently debuted at the New Orleans Jazz and Heritage Festival. The group's signature sound has led Entertainment Weekly to state "never have accordions and saxophones been so much in love," in regard to their wildly successful 1993 self-titled debut album. Soon after, The Iguanas' second album Nuevo Boogaloo (1994) reached No. 34 on the Billboard Heatseekers chart. Regarded as powerful performers and prominent figures in the New Orleans music scene, the trio contributed to Robert Mugge's documentary New Orleans Music in Exile (2007), as various Louisiana musicians joined in a discussion of the catastrophic aftermath of Hurricane Katrina.
Video: The Iguanas – Fortune Teller
John Eaton
A Juke Joint Jam Session
Saturday, March 30 at 7:30 pm
$25
Steinway Concert Artist John Eaton returns to The Barns at Wolf Trap to perform the final segment of his three-part jazz-piano series for 2012-2013. For this installment, A Juke Joint Jam Session, Eaton will be joined by bassist Tommy Cecil and together they will improvise a variety of numbers from the Great American Songbook and take audience requests.
As a pianist, vocalist, and musicologist, Eaton is celebrated for re-creating America's favorite jazz and ragtime tunes, which have landed him performances at the East Room of the White House, the Kool Jazz Festival, and the Smithsonian's Performing Arts Jazz series. Eaton's most recent album John Eaton Presents The American Popular Song: The Classical Connection Volume 6 Vernon Duke & Kurt Weill, is a part lecture, part concert release that highlights his unique philosophy and interpretations of Ellington's and Weill's works.
Video:John Eaton – John Eaton Talks with Wolf Trap
Tickets can be purchased by calling 1(877) WOLFTRAP; or online at http://www.wolftrap.org. For more information, call The Barns at Wolf Trap at (703) 938-2404 or our general information line at (703) 255-1900.