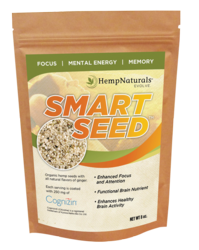 Hemp Naturals affords Kyowa a new and growing channel through which we can bring Cognizin and Sustamine to more consumers.
-- Leo Cullen
Kyowa Hakko USA VP
Anaheim, CA (PRWEB) March 08, 2013
Hemp Naturals, a new hemp focused products company, is launching two hemp seed supplements at Natural Products Expo West and Engredea that feature Kyowa ingredients Cognizin® Citicoline and Sustamine™ L-Alanyl-L-Glutamine.
Sport Seeds contains 500mg per serving of Sustamine to help enhance water and electrolyte absorption, inhibit muscle protein breakdown, promote muscle protein synthesis, and assist in healthy intestinal function.
Smart Seeds includes 250mg per serving of Cognizin to support memory function and healthy cognition. The product helps protect the brain from free-radical damage, assists in sustaining energy production, and enhances communication between neurons for better visual function.
"We are excited to be partnering with Kyowa to bring Sport Seeds and Smart Seeds to market," said Jim Saunders, Hemp Naturals CEO. "As a global company whose ingredients are backed by strong science, Kyowa provides Hemp Naturals with a powerful platform from which we can launch our company and products."
"The addition of Sustamine and Cognizin from Kyowa to a nutritionally packed product based on hemp components provides for powerful combinations that will reward users with significant nutritional supplements in a compact single serving size 8 & 16oz Eco package, " said Jeffrey C. Raber, Ph.D., Hemp Naturals CSO.
"Hemp Naturals affords Kyowa a new and growing channel through which we can bring Cognizin and Sustamine to more consumers," said Leo Cullen, Kyowa Hakko USA Vice President. "It's this type of innovation that we look for in new partners."
Sports Seeds and Smart Seeds will be officially launched at Natural Products Expo West and Engredea, March 8-10 in Anaheim. Kyowa will have information about both products at Engredea booth #234.
About Kyowa Hakko USA
Kyowa Hakko USA is an international health ingredients manufacturer and world leader in the development, manufacturing and marketing of pharmaceuticals, nutraceuticals and food products. Kyowa is the maker of branded ingredients including Cognizin® Citicoline, Lumistor® L-Hydroxyproline, Setria® Glutathione, as well as Sustamine™ L-Alanyl-L-Glutamine. For more information, visit http://www.kyowa-usa.com, http://www.cognizin.com and http://www.sustamine.com.
About Hemp Naturals
At Hemp Naturals, our mission is to help those who are seeking to improve their health to reach their goals through products that are designed to effectively impact physical and mental performance. Our products are scientifically tested and developed through sustainable practices – meeting the highest standards of quality and nutrition that are important to our customers. For more information, contact Jim Saunders, CEO, at 855-ORG-HEMP (855-674-4367) or Jim(at)Hemp-Naturals(dot)com or visit http://www.hemp-naturals.com.