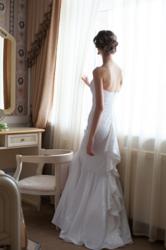 Newport Beach, CA (PRWEB) March 11, 2013
Falling on hard economic times in recent years have caused many people planning a budget wedding to resort to seeking innovative ways to fund their special day, says Wedding.com. Sometimes that even means asking businesses to sponsor the couple by allowing advertisements to be present at the event.
According to a Huffington Post article, one couple took wedding sponsorship to an unorthodox level. The couple reportedly wanted to be married in 2013 but was unable to afford even the most basic of wedding packages. In return for funding, local businesses advertised their services directly on the bride's dress and the groom's suit. The couple's only stipulation was that the advertisements be removed for photos (http://www.huffingtonpost.com/xochitl-gonzalez/selling-ads-on-your-wedding_b_2832019.html).
Although aware that thousands of couples attempt to cut back wedding costs every day, Wedding.com admits this is the first case they have come across in which the bride and groom allowed advertisements directly on themselves. Wedding.com advises that there are other options. Invite only a few guests; have an intimate wedding at home; or resolve to make all the wedding décor with help from family and friends. Wedding.com suggests exhausting all options before entertaining the thought of being a human platform for business ads.
"Despite economic downturns, the average wedding is still over $25,000. Many couples are finding ways to save on wedding expenses because they simply cannot afford to do otherwise," says Brett Reynolds, CEO of Wedding.com. "Even so, most couples usually do not think about allowing ads directly on their wedding attire."
For more information about Wedding.com, please visit http://www.wedding.com.
About Wedding.com
Wedding.com is an innovative new website that connects engaged couples planning their wedding with wedding vendors looking to grow their business. Wedding.com contacts vendors for couples, giving them the power to compare and negotiate while ultimately saving time and money. With 12,000 couples and 22,000 vendors currently using the website, 105,000 proposals have already been sent since their inception. Vendors range in services from wedding planners, photographers, florists, and DJs to custom invitations, party favors, and much more. For additional information about the company and its services, please visit http://www.wedding.com.