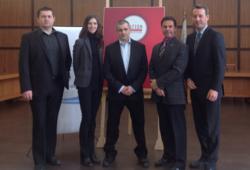 This is the right time and the right place; tomorrow it will be too late.
Shawinigan, Canada (PRWEB) March 10, 2013
The project is focused on a "center of excellence" for mobile and social games, and will also include an eco-friendly data center. The structure will act as a bridge between Japan and Western countries by establishing ties amongst a highly developed and mature market, and a market with strong expansion prospects. Aside from company visits, the delegation met with around sixty professionals from major Japanese companies in the gaming industry (Sega, Square Enix, Namco Bandai, Capcom, Konami) during a conference held at the Canadian Embassy in Tokyo, which ended with a standing ovation from participants.
Philippe Nadeau, co-founder of Alchemic Dream, explains: "The reactions and feedback we received have exceeded the expectations of the delegation. This is the right time and the right place; tomorrow it will be too late. We have received a large amount of feedback and requests for additional information since we came back home, and several companies intend to visit us. I am convinced that the positioning of Shawinigan today is a strategy that will pay tomorrow."
Frederic Arens, CPO of Alchemic Dream, adds: "It was a great opportunity to meet the most innovative Japanese game companies. They brought their extensive gaming experience into the mobile market to seduce the new generation of players. We have seen a real symbiosis between our services and their development perspective. In the coming weeks we will start working in partnership with several Japanese companies and open our Tokyo office at the same time."
"We were not expecting our seminar about the Western Market to be such a huge success. Our business approach is exactly what they are looking for. Alchemic Dream is the bridge they have all been searching for to access and understand Western players," said Karina Kaplun, Chief Business Officer.
Michel Angers, Mayor of Shawinigan, declares: "We received a warm welcome in Japan, the people at Alchemic Dream have given us many opportunities. I doubt this mission would have been as productive without them."
Luc Arvisais, Chief Executive Officer at the Economic Development Corporation (CLD) of Shawinigan, shares his opinion on the Digital Energy Hub: "This project gives a strong direction to the people of Shawinigan. The city has grown thanks to the presence of a heavy industry. Now, we are moving towards another industry, a virtual one, and nobody saw it coming."
Comments about this initiative were very positive. "Shawinigan holds its own Cirque du Soleil in its hands, this is a very precious treasure. We know the company, we know what they can achieve around the world; take good care of them. Every city in Quebec wants to have a company like this around." This is what Serge Labelle, a former manager at the Cirque du Soleil, now involved in the social media industry, declared to Michel Angers.
This trip to Japan also received coverage in the local video game press such as Famitsu magazine (http://www.famitsu.com/).
About Alchemic Dream:
A pioneer & leader for eleven years, Alchemic Dream, Inc. is the premier international provider of services for companies that publish and develop MMOs, virtual worlds, social games, casual games, mobile games and transmedia content. We also provide services to online payment and virtual goods providers.
Our services range from localization to customer service, community management, game mastering, risk management and new gaming experiences.
For more information, please visit our corporate website at http://www.alchemicdream.com