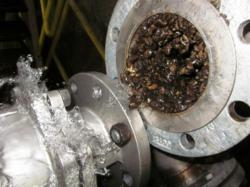 Zequanox offers an invasive mussel control alternative that can be used without harming employees, equipment or the environment ...or significant capital expense.
Davis, CA (PRWEB) March 11, 2013
Marrone Bio Innovations, Inc. (MBI) a leading global provider of biopesticides for water and agriculture applications, announced today that New York, Pennsylvania, Connecticut and Vermont have each issued a Certificate of Pesticide Registration for using Zequanox® to control zebra and quagga mussels (Dreissena species) in enclosed systems and infrastructures. Approved by the EPA in 2012, Zequanox now offers regional businesses such as energy producers, manufacturing companies and golf courses an effective alternative to toxic, broad-spectrum chemicals and costly microfiltration and UV light systems to control populations of invasive mussels.
Invasive mussel populations are now prevalent in major waterways throughout the Northeast, including the Hudson River, Lake Champlain and the Housatonic River. These mussels have a significant economic impact on energy and industrial plants and other businesses that draw water from infested lakes and rivers. Once mussels are drawn into a water system, they attach to surfaces and form dense colonies that can impede or prevent the flow of critical cooling or process water, block irrigation lines and fire suppression systems, and damage infrastructure and equipment.
Chlorine and quaternary ammonium compounds have been used extensively in New York and Pennsylvania to treat invasive mussel populations, but these solutions are toxic to humans, harm native species and pollute waterways. In addition, chlorine and other oxidizing products can corrode equipment, reducing its lifespan and driving up replacement costs.
Keith Pitts, vice president of regulatory affairs for MBI, remarked, "Today state and federal health and environmental regulatory agencies have policy objectives aimed at finding alternatives to chemicals to control invasive species without impacting the health of humans or surrounding ecosystems. And in newly infested areas, such as Connecticut and Vermont, industries and regulators are being proactive and are trying to avoid the use of chemicals altogether."
Zequanox, which is composed of dead cells from a naturally occurring microbe, has been shown to provide a level of efficacy comparable to chlorine and other chemical treatments. Unlike those toxic chemical treatments, however, Zequanox is biodegradable, noncorrosive and nonvolatile. In addition, Zequanox is highly selective to zebra and quagga mussels, and according to the EPA, its active ingredient has "low toxicity and presents little risk to non-target organisms."
Zequanox is applied directly into a facility's water system using standard injection equipment, and personnel need to wear only minimal personal protective equipment (PPE). Treatments can occur during the workday with workers in the area, and can be completed within hours. Zequanox has minimal permitting requirements and use restrictions, and unlike chemical treatments, Zequanox does not require detoxification before water discharge. The product offers additional flexibility in that it is proven effective in a broader range of water conditions and temperatures than chlorine.
Compared with microfiltration or UV light systems, Zequanox does not require ongoing maintenance to ensure efficacy and can be employed without disrupting piping systems or installing specialized equipment. The aqueous formulation provides the added benefit of being able to reach and treat even the smallest of crevices in the water system, whereas mechanical solutions offer control only at a fixed location.
For its use in golf course irrigation systems, Zequanox was tested for its effect on turf. Test results show that the product has no effect on germinating or mature turf and leaves no residue. The product also offers a zero-hour reentry interval, so there is no waiting period after application that might interfere with golf play or recreational use of a waterway.
Pitts concluded, "We are pleased that New York, Pennsylvania, Connecticut and Vermont have registered Zequanox. Northeast plant operators and golf course superintendents now have an invasive mussel control alternative that reduces chemical use and associated regulatory burdens, requires little to no capital investment or equipment maintenance, and can be employed without harming employees, equipment or the environment."
Zequanox is currently registered in nineteen states; additional state registrations are pending.