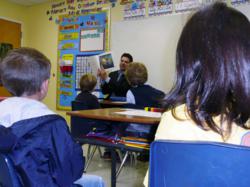 (PRWEB) March 08, 2013
GULF SHORES, ALA. — Robert Mayes, president of Columbia Southern University (CSU), read to a dozen students of South Baldwin Christian Academy in Gulf Shores, Ala., on Friday in recognition of Read Across America and National Reading Month.
"It was a great opportunity to talk to the kids about the importance of reading and how it will be used in every aspect of their lives," said Mayes. "Reading improves vocabulary, communication skills, critical thinking and so much more. My message to kids is read as much as you can. It opens a huge door to the world for you."
He read "Stellaluna" by Janell Cannon, an award-winning story about a young bat who is adopted by a bird family and learns about friendship and diversity. Students from several classes gathered in teacher Lisa Harrison's classroom, where coincidently, the story also fit her lesson plan on vertebrates.
One of her students, kindergartener Ben Anthony, enjoyed the reading. "My favorite part was when the bat was trying to be a bird and the birds like a bat," he explained.
SBCA Headmaster Dawn Cranston said as part of Read Across America, SBCA students celebrated Dr. Seuss' birthday earlier this month. This week, they have participated in games, crafts, special activities and classroom readings.
"We challenged our students to read more and limit their screen time this week, whether that be in front of a television, a computer, iPad or any electronic device. We want to them to read… if it's alone or together as family," said Cranston. "We were excited to have Mr. Mayes come to read to our students today and share such a wonderful story and talk about the value of reading."
The student reading was one of the latest activities CSU has done as part of the online university's community activities. Other recent projects include providing school supplies to needy children, Relay for Life, participating in area fundraisers and working with the Alabama Gulf Coast Chamber of Commerce.
Established in 1996, CSU was created to help individuals with hectic work and family commitments pursue their educational dreams. CSU offers online associate, bachelor's, master's and doctoral degree programs in various fields including criminal justice, fire science, occupational safety and health, and business administration.
If you would like learn more about CSU, please visit http://www.ColumbiaSouthern.edu.
SBCA provides academic excellence in a Christian environment for families in Foley, Gulf Shores, Orange Beach and surrounding coastal areas. The academy conducts pre-k4 through 12th grade classes from 8 a.m. to 1 p.m. weekdays and features traditional and hybrid educational classes. For more information, call 251-967-2688 or email info(at)southbaldwinca(dot)org or visit http://www.southbaldwinca.org