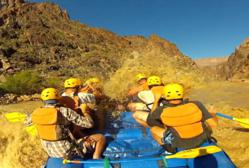 We are trying to make sobriety more fun than crack... and definitely more fulfilling.
(PRWEB) March 10, 2013
Back2Basics is taking full advantage of the nice weather, and planning for a busy spring. In the next two months, B2B will be going skiing, surfing, and river rafting. Taking Spanish classes, open water rescue classes, and kayaking classes are also on the agenda, all while participating in their regular programming of culinary, kung fu, and weekly outdoor activities.
"Spring time in the Southwest opens up an incredible amount of area to be explored," states Chase Christensen, the Outdoor Adventure Coordinator for Back2Basics. Roy Duprez, CEO and founder of Back2Basics, is looking forward to accompanying the residents on the adventures that he and Christensen planned.
More than just a reward for the progress the residents have made, these trips open their eyes to a life outside of drugs and alcohol. "These experiences enable anybody to see and participate in the world and what it really has to offer beyond chasing the short lived high of heroin and the horrible shakes of a hangover," Duprez states. Residents have the chance to try new things, and accomplish things they never thought possible. Robert M, a former resident and graduate of the B2B program, went on the group's last surfing trip to Mexico. "This trip helped me a lot," he expressed, "It showed me that I can surf… I never thought I'd be able to surf!"
The company's ultimate goal is to give the residents of the program the confidence to succeed in living a sober life and they believe these trips are essential. "We are trying to make sobriety more fun than crack... and definitely more fulfilling," Duprez states. "Life is not easy and there will always be obstacles but if we can show them how to just trust the process, the reward is more satisfying than any other street chemical or pharmaceutical."