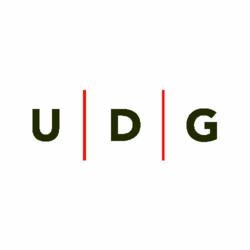 We are pleased to welcome Urban Design Group to Richardson, where they join an outstanding group of leading businesses in our dynamic 75/Bush Turnpike corridor.
Richardson, TX (PRWEB) March 13, 2013
Urban Design Group (UDG), a multidisciplinary architectural firm, recently completed their relocation to the Tower 2600 office building. UDG leased 9,217 square feet of space on the 5th floor of the recently-renovated, class A building. Their new office address is 2600 North Central Expressway, Suite 500, Richardson, TX 75080.
UDG's new office is designed to promote creativity, collaboration and accommodate future growth. The firm selected the building based on the convenient location, recent renovations, amenities package and leasing offers. They were also impressed with the city of Richardson's business-friendly environment and focus on attracting quality companies with an emphasis on growth and innovation.
"We are pleased to welcome Urban Design Group to Richardson, where they join an outstanding group of leading businesses in our dynamic 75/Bush Turnpike corridor," said Richardson Mayor Bob Townsend. "Urban Design Group is known for providing innovative architectural solutions to clients worldwide. We believe they will find great synergies in our community and will further add to Richardson's global reputation as a place where new technologies are not only developed, but also deployed in creative ways by top companies, as evidenced by Urban Design Group's progressive use of advanced technology in design."
In designing their new office space, UDG used an open layout to provide ample space for teamwork and also accommodate future expansion. The openness of the layout enhances the team's opportunities for collaboration and creativity. The few private offices are delineated by glass walls, which are symbolic of the direct involvement of the firm's leaders in every project and their accessibility to team members. The design takes advantage of the building's abundant natural daylighting and extensive views. Sustainable design principles, including energy conservation and environmentally friendly systems and materials, were also employed.
The Richardson studio is led by Ronald D. Armstrong, AIA, Raymond R. Kahl, AIA, and John M. Novack, Jr., FAIA, and currently employs 12 full-time staff, including five licensed architects. The firm's notable projects include the Galleria office complex in Atlanta, GA, Tabor Center in Denver, CO, the University of Southern California's School of Cinematic Arts, Disney's Wilderness Lodge Resort, Animal Kingdom Lodge and Grand Californian Resort, and the San Antonio mixed-use Rivercenter development.
About the Tower 2600 Building and the Real Estate Team:
The Tower 2600 building is a nine-story, class A office building with 229,307 square feet of space. The building is strategically located near North Central Expressway and the President George Bush Turnpike. UDG was represented in the lease by Allen Cantwell of Dalmont Cantwell Company. The owner of the building, Champion Partners Ltd., was represented by Chuck Sellers and Jeff Wood of Peloton Commercial Real Estate. The selected contractor for the build-out of the interior space was Crocker and Reynolds Construction.
About UDG:
Founded in 1975, UDG offers architectural, interior design, master planning, product design, and purchasing and logistics services to its worldwide clientele from studios in Atlanta, GA, and Richardson, TX. A market leader in the application and advancement of Building Information Modeling (BIM) technology and Integrated Project Delivery (IPD), UDG's personnel work on a wide range of projects from hospitality, resort, and gaming projects to corporate office, university facilities, and urban mixed-use developments.
In the firm's 38-year history, UDG has completed more than $6 Billion in projects worldwide. The firm has received more than 80 design excellence awards and honors and 15 design competition awards, and has been featured in hundreds of magazine articles, newspaper pieces and design resource books. For more information, please visit http://www.urbandesigngroup.com.