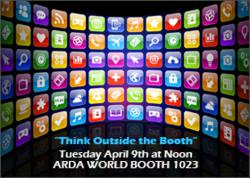 We are excited to be part of the innovative ideas our distributors create
San Diego, CA (PRWEB) March 09, 2013
On the heels of the successful launch of a joint radio outreach initiative, travel services company Travel To Go, in collaboration with Carry- On Travel Connections, will conduct a live radio broadcast during the up-coming ARDA World convention in Hollywood, Florida.
The marketing concept put together by Joe Miller, Vice President of Sales and Marketing from Carry-On Travel Connections and supported by Travel To Go, is a cooperative effort to help identify changes in the private membership travel industry. A demonstration of the effectiveness of this program will be available for attendees to see at ARDA World as Mr. Miller and Mr. Middaugh actually participate in a live broadcast with Atiya Harris and Shuval Rodgers from WGIV Radio in Charlotte, North Carolina during the "Money Talks" radio show.
The broadcast will be aired with a split screen viewing of the hosts from WGIV in Charlotte and Mr. Miller and Mr. Middaugh from the Travel To Go booth #1023 in the ARDA World Exhibit Hall on Tuesday, April 9, 2013 at 12 o'clock noon, eastern daylight time.
"Collaborating with our distributors to educate consumers about the value perspective and flexibility of private membership travel programs to our distributors' markets helps to add confirmation and credibility to the demographic sectors in which our distributors are located. We are excited to be part of the innovative ideas our distributors create," Middaugh said.
In addition to the extensive use of social media during the broadcast, the segment will also be available on the Travel To Go YouTube Channel at http://www.youtube.com/user/MyTravelToGo as these travel industry veterans explain the nuances to effectively planning vacations in today's marketplace.
Conference attendees are encouraged to stop by the booth during the airing of the program for a chance to win a cruise for two on Royal Caribbean's Allure of the Seas, departing from Fort Lauderdale, FL. Program listeners, whether in the Charlotte area or through the online broadcast available at http://player.liquidcompass.net/p/WGIVFM, will be eligible for incredible vacation deals when they visit Carry-On Travel Connections.
To find out more about the unlimited possibilities available through Travel To Go, please visit http://www.TravelToGo.com
About Travel To Go:
Travel To Go offers travel benefits and services to a loyal customer base of 50,000 members and is currently celebrating 23 years in the vacation and travel industry. The company prides itself on its 5-Star service standards and achievement of its mission to "Making Dreams Come True." The company is licensed with all necessary agencies including the states of California, Florida and Hawaii. It maintains an A+ rating with the Better Business Bureau, and is a member of the San Diego Chamber of Commerce, ARDA, and the Cooperative Association of Resort Exchangers (C.A.R.E.). Sky Travel, a division of Travel To Go, is an approved travel agency licensed by the Airline Reporting Corporation (A.R.C.), IATAN and CLIA.
Contact: Renee Wagner/800-477-6331, ext. 116
###
Contact:
Steve Luba
PerspectivePR for Perspective Group
Ph: 407-792-2343