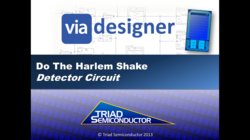 Any engineer, student or hobbyist can design their own Harlem Shake Detector Circuit with ViaDesigner.com.
Winston-Salem, NC (PRWEB) March 11, 2013
If someone wanted a robot to start dancing wildly during the Harlem Shake song after hearing the "Do the Harlem Shake" phrase then a circuit is needed that can detect and activate the animatronic dancing robot at the appropriate point in the song.
In this screencast, Harlem Shake Circuit (watch the video), a high-level mixed signal circuit is designed and simulated. The circuit successfully indicates when the "Do the Harlem Shake" phrase is first spoken in the song. The circuit utilizes a powerful and easy-to-use mixed signal chip design environment called ViaDesigner available for download from ViaDesigner.com.
The ViaDesigner "Do the Harlem Shake Detector" circuit combines:

Top-level schematics
Song waveform created by a voltage generator that reads raw wav data from disk
The output of the generator, the 'music' signal, contains a wide range of frequency components in the song
The 'music' signal is passed through a 10th order bandpass filter that passes signals in the 100 - 200 Hz and attenuates the other frequencies.
The output of the bandpass filter is an indication of when the deep voiced artist is speaking (it actually indicates a lot of other signal info but his voice is the 'first' low frequency signal of interest)
The output of the filter is fed to a comparator with a fixed threshold voltage. When the filtered signal goes above the threshold voltage, the comparator fires and clocks a D-flip/flop.
The D-flip/flop then asserts the signal DO_THE_HARLEM_SHAKE
(That's the signal that can be used to drive the electronics of a robot or other electronic devices)

The filter was created with a ViaDesigner filter wizard.
The comparator and flop were made from ViaDesigner wizards as well.
The simulation includes eight seconds of mixed-signal processing of VHDL-AMS and VHDL digital models.
"Yes, this is a horribly naive circuit: audio voltages assumed to be well behaved, fixed slicing threshold, circuit cannot distinguish between other low frequency signals" stated Reid Wender, VP of Marketing & Technical Sales at Triad Semiconductor and the creator of the circuit. Wender went on to say "ViaDesigner users can easily create many better circuit solutions to detect the audio signature in the ViaDesigner integrated design environment."
Designers Can Create Custom Harlem Shake Detector Circuits
Engineers, students and hobbyists are encouraged to create alternative Harlem Shake Detector circuits.
Free 30-day evaluation copies of ViaDesigner are available at ViaDesigner.com.
About ViaDesigner.com
ViaDesigner.com is the website community of ViaDesigner, Inc. Founded in 2012 and headquartered in Winston-Salem, NC ViaDesigner, Inc. is focused on driving down the cost of mixed signal chip design. ViaDesigner, Inc. is a wholly-owned subsidiary of Triad Semiconductor, Inc. , http://www.TriadSemi.com, the world's leading supplier of via-configurable array (VCA) technology. Triad is a fabless supplier of ViaASIC mixed-signal IC solutions to the defense, aerospace, industrial, medical, automotive and consumer markets.
Via Configurable Array Technology
Triad is a fabless semiconductor company and leading supplier of configurable mixed signal integrated circuits (ICs). Triad utilizes patented via configurable array (VCA) technology that reduces custom IC development costs by 75% or more and allows for designers to go from project kickoff to working silicon in as little as 3 to 6 months. VCA technology only requires a single semiconductor mask change (the via mask) to configure and interconnect any analog or digital resource. Single via mask configuration means design re-spins or derivative designs can be taped out, fabricated, packaged, tested and delivered to customers in four weeks. This compares to the project-killing four to six month delays that can occur with full custom chip design.
About Triad Semiconductor
Triad Semiconductor is on a mission to make mixed signal IC design fast, easy and affordable. Founded in 2002, Triad is a trusted supplier of configurable mixed signal ASIC solutions to the defense, aerospace, medical, industrial, commercial and automotive markets. Triad was recognized in 2012 as one of Inc. Magazine's 500 Fastest Growing Private Companies. Triad is an ISO9001:2008 certified company. Triad is ITAR-certified and supports a fully ITAR-certified supply chain for defense applications.