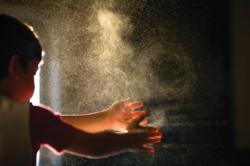 Columbus, OH (PRWEB) March 18, 2013
Most people do not realize that the friction caused by the simple act of opening and closing the sash of old wooden windows coated in lead-based paint can release toxic lead dust into a home.
Once a year the U.S. Department of Health and Human Services shines a spotlight on educating people about the dangers of toxic poisons. To support this effort, Simonton Windows, a Lifetime Founding Sponsor of the Lead Safe America Foundation, has expanded its support for lead safety by sponsoring a series of short on-line videos for the Foundation, which highlight lead-poisoning prevention solutions for families.
"The week of March 17-23, 2013 is the ideal time for homeowners to learn more about possible poison exposure from lead-based paint and finishes that were originally used in older homes," says Gary Pember, vice president of marketing for Simonton Windows. "Childhood lead poisoning can cause permanent brain damage and I.Q. loss, ADD/ADHD, Autism Spectrum symptoms and a long list of other serious health issues.
"During this designated week we encourage people to reassess their homes for any potential poison risks, including lead hazards. For example, when it comes time to replace some older windows, lead paint can be disturbed, creating dangerous lead dust hazards."
Pember points out that homeowners need to understand that if they have a home built before 1980 they should have the home evaluated for lead paint hazards. "If lead-based paint is detected in the home, seek out professional contractors who are trained and certified to follow specific work practices to help ensure the prevention of lead contamination inside, outside, and around the home during remodeling work," says Pember. "This includes replacing older windows."
Homeowners can find out more from Simonton's comprehensive and award-winning "Get the Lead Out" campaign which includes a special website at http://www.simonton.com/leadsafe and incorporates print, on-line, social media and videos to visitors on this issue. A special message on lead safety in the home can also be found at http://www.youtube.com/simontonwindows.
Dedicated to Safety
According to the Lead Safe America Foundation, there are an estimated 80 million homes in the United States today that potentially contain lead-based paint, which can be extremely harmful, especially to children. The friction created by opening and closing windows and doors coated in lead-based paint generates lead dust. This toxic dust can be inhaled and inadvertently spread to other areas of the home --- and when inhaled is the leading cause of childhood lead poisoning.
"One of the very best ways to remove the source of this dust is through total window replacement," says Tamara Rubin, executive director of the Lead Safe America Foundation. "Modern, energy efficient windows and doors are a safe, permanent solution."
Given her personal experience with lead-poisoning, before moving her children into their current older construction home, Rubin replaced all of the home's original lead-painted windows with modern ENERGY STAR® qualified vinyl windows. She personally oversaw the contractors to make sure lead-safe work practices were strictly observed.
"We're exceptionally pleased that Simonton Windows has joined the fight for lead safety by working closely with us," says Rubin. "Simonton is the first and only national window manufacturer to support the worldwide efforts of our non-profit organization as we reach out to protect children from the hazards created by lead found in their homes, schools, childcare centers, playgrounds, parks and environment."
Launching Lead Safe America Foundation
The Lead Safe America Foundation (at http://www.leadsafeamerica.org) was launched in 2011 by Rubin, a lead poisoning prevention and awareness advocate.
"Homeowners nationwide need to understand the hazards of lead paint dust in and around the home," says Rubin, who was named the first National Healthy Homes Hero in 2011 by a consortium of Federal agencies (including the U.S. Environmental Protection Agency, Center for Disease Control, U.S. Department of Housing and Urban Development, U. S. Department of Agriculture and the U.S. Department of Education). "Children are especially susceptible to the harmful effects of small amounts of microscopic lead paint dust, which can have a devastating impact on their development.
"Our organization is dedicated to finding ways to assist individual families and help educate the public on this health hazard. Support from companies such as Simonton Windows allows us to expand our reach of awareness outreach and ultimately make our nation's homes safer."
About Simonton Windows
Simonton Windows produces ENERGY STAR® qualified replacement and new construction windows and doors, including a line of impact-resistant products. Simonton has been ranked "Highest in Customer Satisfaction with Windows and Doors, Three Years in a Row" by J.D. Power and Associates. Simonton was also ranked #1 in quality in the 2012, 2009, 2007, 2002 and 1998 Brand Use Studies sponsored by Builder magazine and has won three Best In Class Awards administered by LBM Journal Research Institute.
Founded in 1946, Simonton's hallmark has been to deliver the industry's shortest, most dependable lead-times. Part of Fortune Brands Home & Security (NYSE: FBHS), Simonton delivers award-recognized products to key markets throughout the 48 continental United States and North America. Simonton is a Founding Sponsor of The Weather Museum, a Lifetime Founding Sponsor of the Lead Safe America Foundation, and a supporter of Homes for Our Troops. For information, call (800) SIMONTON (1-800-746-6686) or visit http://www.simonton.com.
Simonton Windows received the highest numerical score among window and door manufacturers in the proprietary J.D. Power and Associates 2010-2012 Windows and Patio Doors Satisfaction StudiesSM. 2012 study based on responses from 2,519 consumers measuring 11 brands and measures opinions of consumers who purchased new windows or patio doors in the previous 12 months. Proprietary study results are based on experiences and perceptions of consumers surveyed in January – February 2012. Your experiences may vary. Visit jdpower.com.
ENERGY STAR is a government program that helps consumers protect the environment through superior energy efficiency and is a registered trademark of the U.S. Department of Energy and the U.S. Environmental Protection Agency.