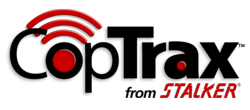 "CopTrax represents a major breakthrough in real-time video streaming technology," Bill Switzer, CopTrax Product Manager.
PLANO, TX (PRWEB) March 11, 2013
Stalker Radar announced the release of CopTrax In-Car Video System with real-time streaming video technology to the law enforcement community.
"Real-time streaming video and lowest cost of ownership are just two features that distinguish the CopTrax system from a crowded field of look-alike in-car video vendors," according to Bill Switzer CopTrax Product Manager.
"CopTrax represents a major breakthrough in real-time video streaming technology. This sophisticated software-based video solution allows viewing of the in-car camera video along with GPS tracking of the patrol vehicle from any Internet-connected computer anywhere in the world.
"Using CopTrax, the chief, or watch commander, or shift supervisor - anyone with proper logon credentials and an Internet connection - can monitor real-time in-car video of events as they are happening."
CopTrax uses the patrol vehicle's laptop as the dedicated processor, meaning the system only requires one or two cameras and a GPS antenna. File storage, archiving, and retrieval can either utilize the agency's existing server infrastructure or Microsoft's Azure, an ultra-secure cloud-based storage application.
Since CopTrax is primarily a software solution, agencies will no longer have to purchase in-car video systems every time vehicles are upgraded. CopTrax is designed to work on In-Car Mobile Data Computers. CopTrax provides the following functionality:

Automatic Vehicle Location (AVL) with live video streaming
GPS synchronized video recording
Wireless offloading of video
Automatic recording initiated by user selectable triggers
Advanced labeling of video by incident type
Video playback with mapping / tracking
Dual high-resolution video cameras
High-quality audio recording
The CopTrax system embeds geographic positioning data into the video stream. Now, what the officer is seeing, hearing, and where they are seeing it is captured in real-time. Agencies have greater situational awareness, better asset coordination, and more accurate event recreation.
The CopTrax System's Command and Control Center is accessible from any Internet connected computer - at the station, the Chief's office, even a computer located at a residence.
The Command and Control Center and Case Management System includes the following features:
Displays the location of all devices (MDTs and smartphones)
Video search and export by meta data
Video playback with synchronized tracking data
Event reconstruction and playback of GPS tracking data
Geo-fenced areas and proximity markers
Automatic email and text alerts broadcasting to officers
Video retention policies with overrides for cases / incident reports
Attach documents to cases / incident reports
Crime maps
CopTrax is available through Stalker Radar's network of Regional Sales Managers located in territories around the U.S. For more information, visit the CopTrax web site, CopTrax.net.
Founded in 1977, Applied Concepts, Inc., introduced the first Stalker Radar to the law enforcement industry in 1989. Stalker Radar is the dominant Doppler radar system and continues to lead the industry in technology breakthroughs and product innovations.