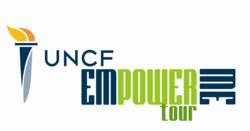 The UNCF Empower Me Tour was created in partnership with Wells Fargo to prepare students to go to and through college and inspire them to take control of their future
Chicago, Illinois (PRWEB) March 08, 2013
The UNCF Empower Me Tour Presented by Wells Fargo – a free, traveling college-and career-readiness road show sponsored by UNCF (United Negro College Fund), the country's largest and most effective minority education organization – will bring actor and comedian Kim Coles, music producer Amir Windom, Food Network celebrity chef Darrell "DAS" Smith, and more to the University of Illinois at Chicago on Saturday, March 9, 2013. Celebrating its fifth anniversary, the UNCF Empower Me Tour was created in partnership with Wells Fargo to prepare students to go to and through college and inspire them to take control of their future by using education as the foundation for achieving their goals and dreams.
In addition to this year's hosts, a galaxy of celebrities, educators and entrepreneurs will share their personal educational journeys with participating middle school, high school and college students. Paul Quinn College president Michael Sorrell; social entrepreneur Tai Beauchamp, and others will talk about how a college education forms the foundation of future success.
The UNCF Empower Me Tour Presented by Wells Fargo will also provide students and their parents with a full day of interactive exhibits, college and career workshops, and engaging panel discussions with special guests including "Girl Talk: Strength in Sisterhood" presented by EMT sponsor Proctor & Gamble's My Black is Beautiful program. This panel will give young women the opportunity to have an open and honest discussion with top female influencers about issues and challenges facing them.
Attendees will also literally take their future into their own hands at the Empower Me Tour Zone, an interactive experience for students, parents and educators. The Zone provides an opportunity to engage with college recruiters, receive a professional resume review, learn about scholarship and internship opportunities, receive information about healthy cooking and disease prevention from our resident celebrity chef, experience an authentic Greek stroll, listen to the celebrity DJs spin, enjoy games, prizes and more.
"The UNCF Empower Me Tour Presented by Wells Fargo gives students and parents the tools they need to prepare for college success and for their careers and life after college, all delivered by celebrities, educators, and entrepreneurs who know how to communicate with young people," said Michael L. Lomax Ph. D., UNCF president and CEO. "Because a lot of the preparation students need is about financial management and responsibility, we are excited to be celebrating the UNCF Empower Me Tour's fifth anniversary with our partners at Wells Fargo, one of the country's great financial institutions and an Empower Me Tour sponsor from the beginning. Together, UNCF and Wells Fargo want to make sure that every child gets the education and preparation they need to have successful, secure financial futures and become the next generation of college-educated professionals, good citizens and effective leaders."
"Wells Fargo is excited to enter into our 5th year of partnering with UNCF to bring the UNCF Empower Me Tour to the communities that we serve. We know that education is the great equalizer in our country, so it is our passion to ensure that children everywhere have access to higher education," said Gigi Dixon, senior vice president, director of national partnerships for Wells Fargo. "This tour makes the possibility of college real to so many children across the nation by providing them with information, tools and resources to help them make smart and informed decisions about their future."
Now in its fifth year, the UNCF Empower Me Tour Presented by Wells Fargo has visited Washington, DC; Minneapolis, Minnesota; Detroit, Michigan; Miami, Florida; Atlanta, Georgia; Dallas, Texas; and Charlotte, North Carolina so far in this academic year.
"I'm excited to participate in the UNCF Empower Me Tour and to help celebrate its fifth anniversary," said co-host and Grammy-nominated singer/songwriter Ledisi. "Every year it's amazing to meet students and to share my experiences with them and help to motivate them to use education to build the kind of future they want and we all want for them. No one does more than UNCF to help students go to and through college so they can start families and launch careers. I am thrilled to be able to play my part in the great work they do."
Sponsors and Education Partners of the UNCF Empower Me Tour include:
Presenting Sponsor, Wells Fargo; Official Sponsor, US Marine Corps; Major Sponsors: McDonald's, Procter & Gamble and FedEx; Workshop Sponsor: US Army; Local Workshop Sponsor: the General Motors Foundation and Education Partners: Education Is Freedom, US Department of Education Federal Student Aid, Gates Millennium Scholars Program, City Year, Inc. and Teach For America. Local partner State Farm. For more information on the tour and to register for FREE, visit http://www.EmpowerMeTour.org.
About UNCF
UNCF (United Negro College Fund) is the nation's largest and most effective minority education organization. To serve youth, the community and the nation, UNCF supports students' education and development through scholarships and other programs, strengthens its 38 member colleges and universities, and advocates for the importance of minority education and college readiness. UNCF institutions and other historically black colleges and universities are highly effective, awarding 20 percent of African American baccalaureate degrees. UNCF administers more than 400 programs, including scholarship, internship and fellowship, mentoring, summer enrichment, and curriculum and faculty development programs. Today, UNCF supports more than 60,000 students at over 900 colleges and universities across the country. Its logo features the UNCF torch of leadership in education and its widely recognized motto, "A mind is a terrible thing to waste."® Learn more at http://www.UNCF.org
About Wells Fargo
Wells Fargo & Company (NYSE: WFC) is a nationwide, diversified, community-based financial services company with $1.3 trillion in assets. Founded in 1852 and headquartered in San Francisco, Wells Fargo provides banking, insurance, investments, mortgage, and consumer and commercial finance through more than 9,000 stores, 12,000 ATMs, the Internet (wellsfargo.com), and has offices in more than 35 countries to support the bank's customers who conduct business in the global economy. With approximately 265,000 full-time equivalent team members, Wells Fargo serves one in three households in the United States. Wells Fargo & Company was ranked No. 26 on Fortune's 2012 rankings of America's largest corporations. Wells Fargo's vision is to satisfy all our customers' financial needs and help them succeed financially.
###