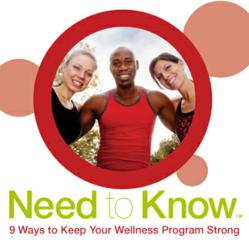 In this free guideline, we offer our best insights about what makes wellness programs robust — and sustainable.
Midland, MI (PRWEB) March 12, 2013
The guideline, 9 Ways to Keep Your Wellness Program Strong, is a free worksite wellness resource from Health Enhancement Systems. It's 1 of 12 new Need to Know guidelines offering practical advice and insights for worksite wellness and HR professionals. Each is presented in an easy-to-read, 1-page checklist format ideal for just-in-time learning or staff training.
"To create the Need to Know guidelines, we've summarized wisdom gleaned from 20 years in worksite health promotion," remarks Dean Witherspoon, President and founder of Health Enhancement Systems, which develops popular online wellness campaigns like Le Tour de Fitness, All In, and 5 on 5. "Our goal is to help wellness and HR professionals save time, energy, and resources in building top-of-the-line programs — by zeroing in on strategies that work."
Employee wellness programs are often among the first on the chopping block during shaky economic times. Those with staying power have leaders who form a solid foundation using strategies such as these found in 9 Ways to Keep Your Wellness Program Strong:

Conduct and share program evaluations. Waiting until there's a problem is too late. Clarify priorities, strengths, and areas to improve through regular evaluations. Share findings from management on down.
Look at all economic variables. Focusing a wellness program on just 1 or 2 of the organization's financial concerns puts it at risk, because the value will be measured only on success in those areas. Identify any economic variable that can be influenced by wellness and offer strategies to positively influence trends.
Include consumer health education. Wellness is not just reducing risk factors. Address empowered healthcare consumerism by teaching employees how to use their benefits wisely. They need to understand the economic impact of worker health and safety behaviors on the bottom line and on their success.
Build an integrated program infrastructure. Program components should be interconnecting pieces of a larger picture. Capitalize on information generated by all initiatives. Connect internal resources such as health risk assessments, coaching activities, online resources, and vendor services.
"Today's wellness managers don't have the luxury of time to learn by trial and error. They need to do what gets results, right out of the gate," notes Witherspoon. "We've worked with thousands of organizations, large and small; in this free guideline, we offer our best insights about what makes wellness programs robust — and sustainable."
For more information, download 9 Ways to Keep Your Wellness Program Strong at http://www.hesonline.com/employee-wellness-products/free-stuff/needtoknow/strong.
Health Enhancement Systems creates employee wellness programs for organizations in North America and throughout the world. More than 20 effective, engaging HES wellness campaigns have been adopted by over a thousand organizations — serving hundreds of thousands of participants successfully.
For more information about Health Enhancement Systems, visit (http://www.HealthEnhancementSystems.com) or call 800.326.2317.