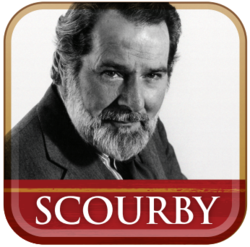 The Newest and Best Way to Access the King James Bible"
Los Angeles, CA (PRWEB) March 16, 2013
Many times software applications are technological sophisticated, but not user friendly. However, users report that the feature rich Scourby Audio Bible App is both and thereby delivers to users a high degree of enjoyment in accessing the King James Bible. The APP features the entire recording of the King James Bible in both high quality sound and text that are synced together with the voice of Alexander Scourby, one of the most renowned narrators of all time.
The Chicago Tribune wrote that Alexander Scourby has the greatest voice ever recorded. The narration is not only synchronized, but also highlights the text which is being read so users can focus more easily on the Bible verse.
According to users, the http:// Audio Bible App, with all its features, takes up very little resources in terms of the mobile device's memory and processing power and delivers the feature rick KJV Bible back to the uses in a vivid and impacting presentation. The developers have an ongoing beta testing program with a number of uses generates valuable user feedback that developer can then act upon. This enables the Bible App to keep on the cutting edge with features that user state they want the most.
Due to the Bible App's development teams emphasis on user involment, the user becomes an integral part of the Bible app development exercise and feature upgrades. This enables the user to get the features they want instead of what the developer thinks they want. Some of the Audio Bible app features which users have stated they want are the bimodal presentation of audio and text, they definitely stated they want Alexander Scourby as the narrator, want a full search feature that can pull up book, chapter, verse and words instantly and the ability to create play lists of favorite verses and play them back at will. Those are just a few of what they said they wanted.
In the software application world the two important goals are functionality and ease of use and the Scourby Audio Bible has both, thanks to the contribution of the beta testing users. Litchfield Associates is committed to keeping the users involved in the process since they feel that the user is the ultimate authority on app feature development.
Users can get complete details on the Bible App at scou rby.com, take an app tour, listen to Alexander Scourby narrate selected Bible passages and easily download the Bible app or the Bible Mp3 download for mp3 players and or computers.
Litchfield Associates are the owners and distributors of all Alexander Scourby
Bible Recordings, and have immortalized the Voice of Alexander Scourby on the greatest and Oldest book with the largest distribution in the World, the King James Bible.