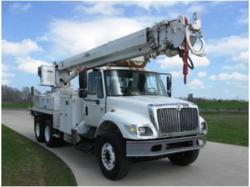 $1,500 Off
Colona, IL (PRWEB) March 08, 2013
I-80 Equipment of Colona, IL is now offering customers a special discount on the Altec D845BR 4x4 Digger Derrick for a limited time as a Manager's Special. This is a unique vehicle equipped with special features that makes it a desirable truck for company's handling all types of terrain. The Altec D845BR is currently being offered for $1,500 off of the already reduced price and is now available for $76,500 for customers who receive email and direct mail communications from I-80 Equipment.
Among the Altec D845BR 4x4 Digger Derrick's unique features are the remote controls for boom operation. Users can be physically off of the truck and continue to operate the boom from nearby. It is also equipped with 4-wheel drive, making this the perfect vehicle for all types of rough terrain. It handles excellently on soggy ground and can cut down on a company's towing bills as a result. The Altec D845BR 4x4 Digger Derrick can also drill holes from 9" to 48," making it a choice truck for drilling and setting poles.
Manager's Specials are available to customers who are signed up for email communications and who receive the direct mailers from I-80 Equipment. These discounts are in addition to the company's already reduced prices. Interested customers can visit the i80equipment website to sign up for these special email offers or call I-80 Equipment at 888-949-3701 to speak with a sales representative about new and used digger derrick trucks.
I-80 Equipment
120 Walnut Lane
Colona, IL 61241
(Toll-Free) 888.949.3701
(Local) 309.949.3701
(Fax) 309.949.3760
(Email) info(at)i80equipment(dot)com