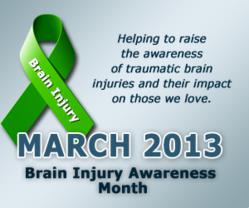 During the month of March, let us all resolve not only to spread awareness, but also to support survivors and their families
Newport Beach Ca (PRWEB) March 08, 2013
The Brain Injury Association of America is kicking off their yearlong campaign to educate the public about the dangers of traumatic brain injuries by declaring March as National Brain Injury Awareness Month.
According to the association's website, the goal of this campaign is to help prevent brain injuries, foster research and education to help those affected by brain injury and bring hope and healing to millions of people in the United States who are living with a brain injury.
The personal injury attorneys of Bisnar | Chase are 100 percent supportive of the Brain Injury Association and the work they do in our communities. We represent victims who have suffered brain injuries as a result of auto accidents and other acts of negligence or wrongdoing.
The Brain Injury Association describes a traumatic brain injury or TBI as a blow, jolt or bump to the head or a penetrating head injury that disrupts the normal function of the brain.
The statistics compiled by this group are informative and powerful:
-- In the United States, 1.7 million people, including 475,000 children, sustain a TBI each year.
-- 3.1 million individuals live with a lifelong disability as the result of a TBI.
-- 52,000 people die and 275,000 people are hospitalized each year with brain injuries.
The main causes of TBIs are;
-- Falls (35 percent)
-- Car crashes (17 percent)
-- Workplace accidents (16 percent)
-- Assaults (10 percent)
-- The average cost of hospital-based acute rehab costs $8,000 per day.
-- The range for post-acute residential is about $850 to $2,500 per day.
-- Day treatment programs such as physical and occupational therapy cost about $1,000 per day.
-- The medical and other costs of TBI total an estimated $76.3 billion each year.
Traumatic brain injuries affect not only the victims, but also their families, says John Bisnar, founder of the Bisnar | Chase personal injury law firm. "We represented a young brain injury victim whose parents had to take time off work or even give up their job to care for their son. It is emotionally and financially rough for these families."
It is eye-opening to see the statistics presented by the Brain Injury Association, Bisnar says. "It really drives home the impact these types of catastrophic injuries have on individuals and their families.
During the month of March, let us all resolve not only to spread awareness, but also to support survivors and their families."
About Bisnar | Chase
The California brain injury lawyers of Bisnar | Chase represent victims of traumatic brain injuries. The firm has been featured on a number of popular media outlets including Newsweek, Fox, NBC, and ABC and is known for its passionate pursuit of results for their clients. Since 1978, Bisnar | Chase has recovered millions of dollars for catastrophically injured victims.
For more information, please call 800-561-4887 or visit http://www.bestattorney.com for a free consultation.
Bisnar | Chase LLP
1301 Dove St. #120
Newport Beach, CA 92660.
Source: http://www.biausa.org/brain-injury-awareness-month.htm