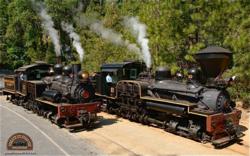 It's not every day that we get to celebrate something turning 100, even with all the history out here, so we plan to make a big deal of it
(PRWEB) March 08, 2013
The sound of train whistles will once again be echoing through the Sierra National Forest just outside of Yosemite National Park as the popular Yosemite Mountain Sugar Pine Railroad is gearing up for the start of their season while also celebrating a special milestone.
The railroad, located about 4 miles from the southern entrance to Yosemite National Park, will start offering tours aboard the Jenny Railcars on March 16, weather permitting.
The railcars are Ford Model A's modified by the rail crews back in the early 1900's to ferry personnel and materials to job sites much quicker and more affordably than the steam engines. The Jenny's continue to run today, offering another way to tour lines used by the Yosemite Mountain Sugar Pine Railroad.
The steam engine tours will start two weeks later on March 27, running Wednesday through Saturday that week.
This season is a special one for the railroad, which has been in operation since 1967. Engine 15, the smaller of the railroad's two Shay locomotives, celebrates its 100th birthday this year, a milestone for the historic railroad.
"We're planning a big celebration this year to commemorate the centennial of the engine," said Max Stauffer, owner of the railroad.
"It's not every day that we get to celebrate something turning 100, even with all the history out here, so we plan to make a big deal of it."
Specifics on the celebration will be announced later. Watch the railroad's facebook page, http://www.Facebook.com/YMSPRR for updates.
The railroad's popular "Moonlight Specials", which include train ride, barbecue dinner and entertainment from the folk group Sugarpine will start May 25 and occur Wednesday and Saturday nights through July and then on Saturday nights in September and October.
Other activities available at the railroad include gold panning and the Thornberry Museum. It's also a popular spot for birthday parties and other special events.
For a full schedule, visit http://www.YosemiteSteamTrains.com.
-END-