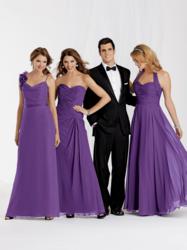 Industry Consultant, Dale Buziecki states, "Jordan is a leader in bridesmaid design because of their ability to create dresses suited for every type of wedding at a budget-friendly price point."
Glen Ellyn, Illinois (PRWEB) March 11, 2013
The Jordan Fashions 2013 collection features 27 dresses. House of Brides salons received samples in advance of the start of the year and reported an immediate response from customers.
The popularity of the dresses extends to the retailer's website where the season premiered in January.
The retailer attributes the manufacturer's success with bridal parties to their focus on affordable but fashion-forward styles. As Industry Consultant, Dale Buziecki states, "Jordan is a leader in bridesmaid design because of their ability to create dresses suited for every type of wedding at a budget-friendly price point."
Founder Mariano Giordano established Jordan Fashions in 1966. It continues to be a family-owned business and one of the largest manufacturers in the United States. Their retailers also acclaim the manufacturer for its timely delivery and reliability.
Award-winning designer, Bill Pesce, leads the design team and focuses on designing dresses that are both affordable but fashion-forward.
Another favorable attribute is the selection. The manufacturer's current collection offers 150 different styles. The dresses are available in over 75 colors with many styles available in color combinations. Sizes range from 0 – 34 and junior sizes 4 – 16. Many styles are offered with expedited delivery.
In addition to bridesmaids, Jordan Fashions offers a Mother of the Wedding line, Caterina and flowergirl line, Sweet Beginnings. They also have bridal lines, Aariana, Reflections
The retailer expects customer interest will carry through to the Fall 2013 season, which debuts at the National Bridal Market in Chicago this April.
About House of Brides:
House of Brides established its first brick-and-mortar store in 1929 and has since grown to 11 Chicagoland stores and global E-Commerce website, http://www.houseofbrides.com. Millions of brides and their wedding parties visit the salons and global website for over 50,000 wedding and special event products.